LUX METER FT3424
Light Meter with Broad Coverage from Low to High Illuminance
The FT3424 is a light meter designed for an extensive range of applications involving illumination equipment, lighting work and facility management. Capable of testing even LED lighting, the FT3424 provides five measurement ranges, 20 lx to 200 000 lx, to support a wide range of luminance levels.


Key Features
Compatible with LED lighting

Complies with DIN 5032-7:1985 class B and JIS C 1609-1:2006 general AA class

Timer hold function lets you make measurements in remote locations while avoiding the effects of shadows and reflections

Save up to 99 measured values in the instrument's internal memory

Transfer data to the PC later and improve work efficiency
Model No. (Order Code)
How to Use the Hioki Lux Meter FT3424
Basic introduction to using a Hioki lux meter
Introduces how to use Hioki's FT3424 lux Meter, from zero-adjustment and the hold function to making measurements. Since the instrument's memory function lets it store measured values, there's no need to take notes by hand in the field. In addition, a timer hold function and connection cable make it possible to measure illuminance after moving away from the instrument.
Measure illuminance free of the effects of shadows
1. Timer hold function
Retain the measured value after a user-configured amount of time has elapsed from the time the TIMER key is pressed. In this way, you can time measurement to occur after you have moved away from the lux meter so that measurement is not affected by clothing, shadows, etc.

Timer settings:
Select from 5 / 10 / 15 / 20 / 30 / 45 / 60 sec.
After the set time has elapsed, the measured value is retained. → The backlight turns on and the beep sounds for 3 sec.

2. Measurement with sensor and display units undocked
You can undock the display and sensor units for more convenient use. Simply connect them with the Connection Cable L9820 (option).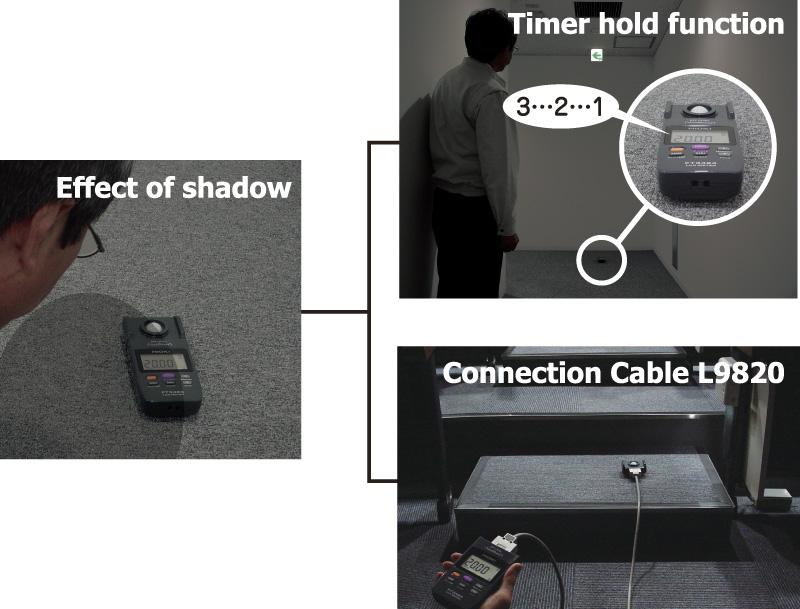 Support for measurement of 1 lx makes the FT3424 ideal for low-illuminance measurement
20 lx range measurement resolution 0.01 lx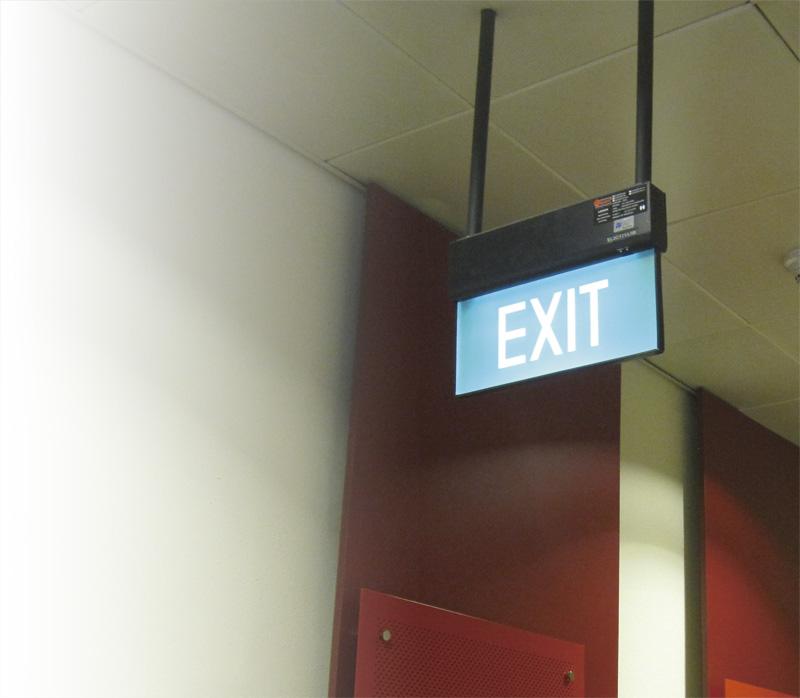 Memory function makes multipoint measurement a breeze
1. Memory function (up to 99 values)
Save measured values for multiple measurement locations in the instrument's internal memory on the spot for later display at your convenience. There's no need to take time to jot down a reading on paper for each measurement.

2. Data communications functionality
Transfer data saved in the instrument's internal memory to a computer via a USB connection. Data can be saved as a text file.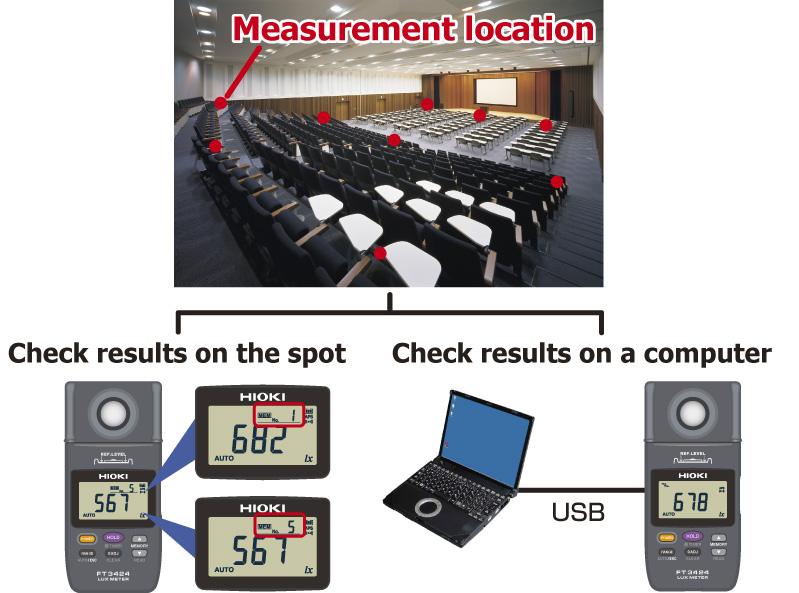 Basic specifications
Accuracy guaranteed: 2 years
Standards
DIN 5032-7: 1985 class B, JIS C 1609-1: 2006 general AA class
Light receiving element
Silicon photo diode
Range selection
Auto/ Manual
Linearity
±2% rdg. (Multiply by 1.5 for display values in excess of 3000 lx.)
Accuracy guarantee for temperature and humidity
21 °C to 27 °C (69.8 °F to 80.6 °F), 75% rh or less (non-condensing)
Response time
Auto range: within 5 seconds, Manual range: within 2 seconds
D/A output
Output level: 2 V/range f.s. (2.5 V is output when the range f.s. is exceeded.)
Output accuracy: ±1% rdg. ±5 mV (at display count)
Functions
Timer hold function, Memory function (Up to 99 measured data can be saved.), Hold, Auto power off function, Buzzer sound, Backlight, Zero adjustment
Power supply
LR6 Alkaline battery ×2 (continuous use 300 hours), Max. rated power 500 mVA, or R6 Manganese battery ×2, or USB bus power (5 VDC)
Dimensions and mass
78 mm (3.07 in)W × 170 mm (6.69 in)H × 39 mm (1.54 in)D, 310 g (10.9 oz) (including the batteries)
Included accessories
Instruction Manual ×1, LR6 Alkaline battery ×2, Sensor cap (with strap) ×1, Carrying case (soft) ×1, Strap (for instrument) ×1, USB cable (0.9 m/2.95 ft) ×1, CD (USB driver, dedicated computer application software, and communications specifications) ×1
Measurement ranges
Range
Measurement range
Display steps
20 lx
0.00 lx to 20.00 lx
1 count step
200 lx
0.0 lx to 200.0 lx
2000 lx
0 lx to 2000 lx
20000 lx
0(0) lx to 2000(0) lx
10 count step
200000 lx
0(00) lx〜2000(00) lx
100 count step
Options (4)
C0202: For storing the instrument with the L9820, L9094, and USB Cable
C0201: For storing the instrument with the L9094 and USB Cable

CARRYING CASE C0202

CONNECTION CABLE L9820
Use when positioning the FT3424 sensor unit and display unit separately during use.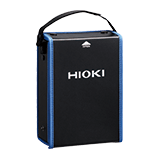 CARRYING CASE C0201

OUTPUT CORD L9094
φ 3.5 mm (0.14 in) dia. mini plug to banana, 1.5 m (4.92 ft) length
---
Related Products