4CH ANALOG UNIT U8978
Isolated 4-channel input module to measure multiple points simultaneously
Key Features
Measurement of sensor output, etc. with high sensitivity range of 100 mV f.s.

Isolated 4 channel input

Max. rated voltage to ground (direct input) 30 V AC, 60 V AC; (when combined with the 9665) 300 V AC or DC (CATⅡ)

High speed sampling of 5 MS/s ensures high-speed phenomena are captured

High 16-bit A/D resolution

For Memory HiCorder MR6000, MR6000-01(ver. 2.10 or later), MR8740T (ver. 2.00 or later), and MR8847A (ver. 2.00 or later)
Model No. (Order Code)
| | |
| --- | --- |
| U8978 | For the MR6000 and similar products |
Note: Use it by installing it in the Memory HiCorder. Input cords not included - please purchase separately.
Simultaneously measure up to 32 channels at high resolution
The MR6000 can simultaneously measure up to 32 channels, while the MR8740T can measure up to 108 channels at a time.
Thanks to four input channels and a high-sensitivity 100 mV f.s. range, the U8978 can measure multiple channels of signals from a variety of sensors. The unit is ideal for use in measuring currents of various magnitudes in the development of automobile accessory controls. Utilized in combination with the multi-range Current Probe CT6711, it can measure currents from 1 mA to 50 A.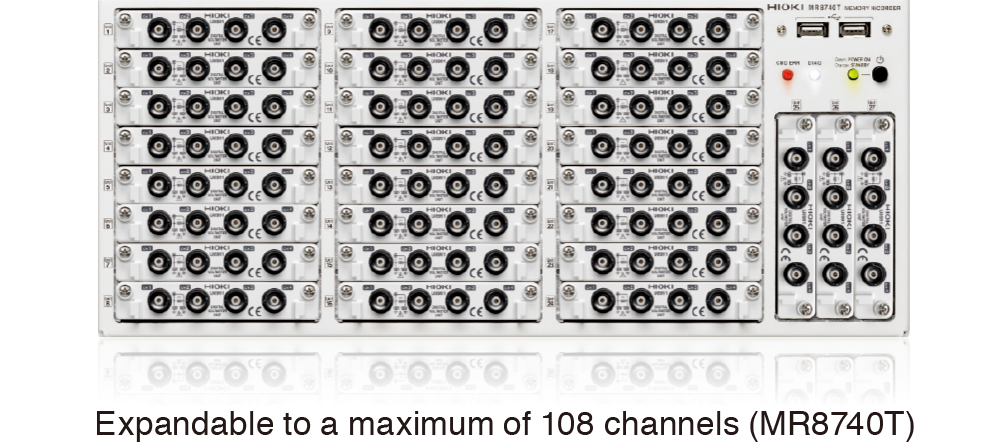 Observe minuscule currents using high-sensitivity wideband current probes
Analyze minuscule current waveforms from low power-consumption devices in 100 μA resolution. Record device current consumption waveforms in high resolution over extended periods of time.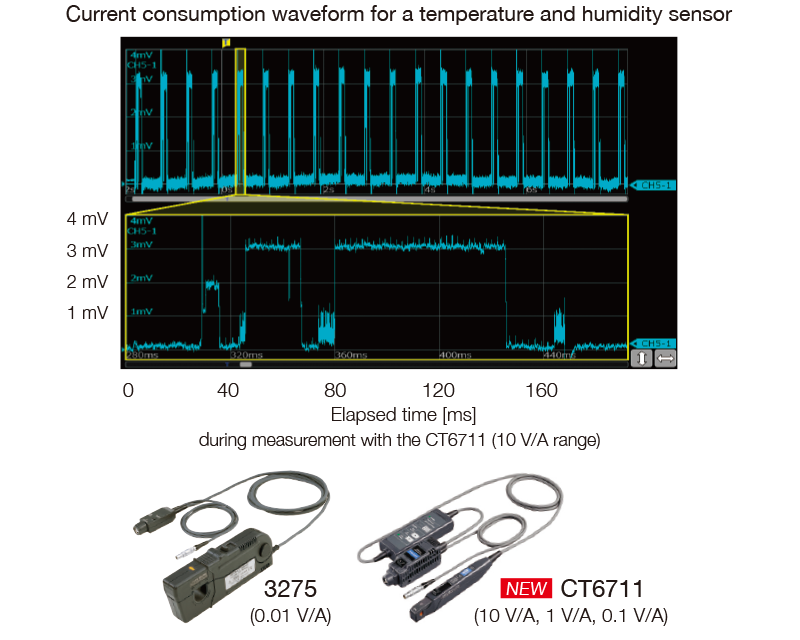 Comparison Table
This is a comparison table against the discontinued 8946 4-channel analog unit. Please refer to this table when you consider replacement.
*The 8946 cannot be used with current memory HiCoders (MR6000 series, MR8847A series, MR8827, MR8740/41, and MR8740T).
List of Available Memory HiCorders
Please refer to the table here for the types of input units that can be used for each Memory HiCorder.
Basic specifications
Accuracy guaranteed: 1 year
Measurement functions
Number of channels: 4, for voltage measurement
Input terminals
Isolated BNC terminal (Input impedance: 1 MΩ, Input capacitance: 30 pF)
Max. rated voltage to earth: Direct input: 30 V AC, 60 V DC,
When combined with the 9665: 300 V AC, DC (CAT II)
(with input isolated from the unit, the maximum voltage that can be applied between input channel and chassis and between input channels without damage)
Measurement range
100, 200, 400 mV f.s., 1, 2, 4, 10, 20, 40 V f.s., 9 ranges
Low-pass filter: 5/500/5 k/200 kHz
Measurement resolution
1/32000 of measurement range (using 16 bit A/D conversion)
Highest sampling rate
5 MS/s (4 channel simultaneous sampling)
Measurement accuracy
±0.3% f.s. (with filter 5 Hz, zero position accuracy included)
Frequency characteristics
DC to 2 MHz -3 dB
Input coupling
DC/GND
Max. allowable input
40 V DC (with direct input), 400 V DC (when using the 9665)
Dimensions and mass
106 mm (4.17 in) W × 19.8 mm (0.78 in) H × 196.5 mm (7.74 in) D, 250 g (8.8 oz)
Included accessories
None
Use with these products (1)
* Main products are listed below. For more information, please see each product page.
Voltage measurement Type A (4)
* Input voltage is limited to the specifications of the input modules in use
* Max. rated voltage to earth is limited to the specifications of the input modules in use

ALLIGATOR CLIP L9790-01
Red/black set attaches to the ends of the Connection Cord L9790

CONNECTION CORD L9790
• Flexible φ 4.1 mm (0.16 in) thin dia.
• Cable allowing for up to 600 V input
• 1.8 m (5.91 ft) length

CONTACT PIN 9790-03
Red/black set attaches to the ends of the Connection Cord L9790

GRABBER CLIP 9790-02
Red/black set attaches to the ends of the Connection Cord L9790
Voltage measurement Type B (1)
* Input voltage is limited to the specifications of the input modules in use
* Max. rated voltage to earth is limited to the specifications of the input modules in use

CONNECTION CORD L9198
•φ 5.0 mm (0.20 in) dia.
•Cable allows for up to 300 V input
•1.7 m (5.58 ft) length
•Small alligator clip
Voltage measurement Type C (2)
* Input voltage is limited to the specifications of the input modules in use
* Max. rated voltage to earth is limited to the specifications of the input modules in use

CONNECTION CORD L9197
•φ 5.0 mm (0.20 in) dia
•Cable allows for up to 600 V input
•1.8 m (5.91 ft) length
•Includes detachable large alligator clips

GRABBER CLIP L9243
Attaches to the tip of the banana plug cable, Red/Black: 1 each, 185 mm (7.28 in.) length, CAT II 1000 V
Voltage measurement Type D (2)
* Max. rated voltage to earth is limited to the specifications of the input modules in use
* For a list of compatible Memory HiCorders, please see the product catalog
---
Related Products