UNIVERSAL CLAMP ON CT 9279
High Precision DC to 20 kHz, 500 A AC/DC Current Sensor with ±0.5% Accuracy
Hioki AC/DC clamp sensors are best-in-class devices for use with power meters, Memory HiCorders and high performance oscilloscopes. The 9279 is a DC to 20 kHz/500 A sensor, ideal for monitoring waveforms of switching power supplies, inverters, power conditioners, etc.
Key Features
Wide DC to 200 kHz frequency bandwidth
Minimal zero drift for stable, long-term measurements
For power lines and secondary side of inverters
650 A of continuous input
Use together with the Sensor Unit 9555-10 for high precision waveform monitoring and recording
Also pair with AC/DC clamp on power meters
Model No. (Order Code)
| | |
| --- | --- |
| 9279 | Discontinued, 500 A AC/DC |
| 9279-01 | Discontinued, CE marked model, DC to 20 kHz, 500 A |
Note: Model 9279-01 compliant to CE-mark requirements is available on special order. Note: These products cannot be used alone. The optional 9555-10 is required in order to supply power and connect the clamp to a Memory HiCorder or other instrument. Products can be directly connected the Power Meter 3193-10 and 3390 (cannot use with the 3390-10).
Basic specifications
Accuracy guaranteed: 1 year
Rated current
500 A AC/DC
Continuous allowable input
650 A rms
Amplitude accuracy
±0.5 % rdg. ±0.05 % f.s. (DC and 45 to 66 Hz, 30 min or more warming-up after degaussing)
Phase accuracy
±0.2° (45 to 66 Hz, 30 min or more warming-up after degaussing)
Frequency characteristics
(Amplitude/Phase, deviation from accuracy)
DC to 1 kHz: ±1.0 % (±0.5°)
1 k to 10 kHz: ±2.5 % (±2.5°)
10 k to 20 kHz: ±5.0 % (±5.0°)
Output rate
(Via the 9555-10)
2 V/Rated current
(voltage output with the Sensor Unit 9555-10, use with a device having a 1 MΩ input resistance or higher)
Core diameter
φ 40 mm (1.57 in)
Power consumption
7.2 W (with rated input)
Power supply
DC ±12 V to ±15 V (Power suppled via the 9555-10, which supports 100 to 240 V AC)
Dimensions and mass
220 mm (8.66 in) W × 103 mm (4.06 in) H × 43.5 mm (1.71 in) D, 470 g (16.6 oz), cord length: 3 m(9.84 ft)
Included accessories
Carrying case 9375 ×1, Instruction manual ×1, Mark-band ×6
Options (3)

CONVERSION CABLE 9318
To connect the CT6841-6846, CT6865/63/62, 9709, 9272-10 to the 8971/40/51, 38 cm (14.96 in) length

CONNECTION CORD 9165
Cord has metallic BNC connectors at both ends, use at metallic terminal, 1.5 m (4.92 ft) length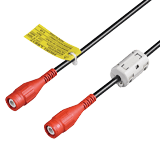 CONNECTION CORD L9217
Cord has insulated BNC connectors at both ends, 1.6 m (5.25 ft) length
---
Related Products