Product Jul. 10, 2020
Hioki Launches Earth Tester FT6031-50
Wireless functionality dramatically improves work efficiency
Hioki is pleased to announce the launch of the Earth Tester FT6031-50.
The optional Wireless Adapter Z3210 can be connected to the instrument to enable BluetoothR wireless communications with smartphones and tablets. GENNECT Cross, a free application from Hioki, can be used to send measurement data to smartphones and tablets and to easily create reports combining site photographs and design drawings in the field.
The new model inherits the dustproof performance and convenient, one-touch automatic measurement functionality of its predecessor (the Earth Tester FT6031-03) while adding wireless capability to dramatically boost work efficiency.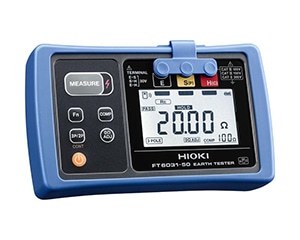 Need for Grounding Resistance Measurement
Grounding, which generally refers to the connection of electrical devices to the earth, is essential as a method for preventing electric shock when electrical equipment malfunctions or deteriorates over time.
Grounding is accomplished by driving an electrode into the ground, and the resistance between the electrode and the ground is known as the grounding resistance. For safety reasons, grounding resistance must not exceed certain standard values, making it necessary to measure grounding resistance in order to verify the safety of grounding installations.
DEVELOPMENT BACKGROUND
In the past, technicians had to record data measured in the field on paper and create reports later. This workflow increased the likelihood that mistakes would be made when recording values on paper or entering them into a computer.
Additionally, the need to transfer values to a computer and to return to the office in order to create reports placed a significant burden on workers.
Hioki developed the FT6031-50 with wireless capability so that operators could transfer measurement data directly to handsets such as smartphones and create reports on the spot.
KEY FEATURES
1. New function: Wireless functionality that dramatically improves work efficiency
When connected to the optional Wireless Adapter Z3210, the FT6031-50 can be paired wirelessly with a tablet or smartphone using BluetoothR. The ability to send measurement data to such mobile devices eliminates mistakes when writing down values as well as the time and trouble of transferring data to a computer.
Additionally, operators can easily create reports combining photographs taken on-site and design drawings imported into the application with measurement data, right there in the field. The ability to quickly create reports without returning to the office translates into a significant improvement in work efficiency.
2. Dustproof and waterproof performance that make the instrument washable (International Protection Code IP67)
Earth testers are placed on the ground outdoors during use. The FT6031-50 provides excellent dustproof performance*1 so that it can withstand use in sandy environments and waterproof performance*2 so that dirt can simply be washed off. Its robust, field-oriented design means operators can focus on measurement instead of worrying about mud and water. (The FT6031-50 offers the same level of protection as the previous model, the FT6031-03.)
The FT6031-50 is designed according to IP67 standards, which classifies the level of protection it provides from solid particles and water as defined by the International Electrotechnical Commission (IEC).
※1

Solid particle protection: Level 6 (highest level), indicating that there is no ingress of dust

※2

Liquid ingress protection: Level 7 (second-highest level), indicating that there is no ingress of water when the enclosure is immersed in water under defined conditions of pressure and time
3. One-touch automatic measurement for more efficient operation
Most earth testers require three steps: (1) checking the ground potential, (2) checking the auxiliary grounding electrode, and (3) measuring the grounding resistance. Hioki's earth testers improve measurement efficiency by performing these three operations automatically at the touch of a button. (The FT6031-50 offers the same level of protection as the previous model, the FT6031-03.)
PRINCIPAL APPLICATIONS
End-of-construction testing and periodic inspections of electrical equipment
*

The BluetoothR word mark and logos are registered trademarks owned by Bluetooth SIG, Inc. and any use of such marks by HIOKI E.E. CORPORATION is under license.
About HIOKI
Established in 1935, HIOKI E.E. CORPORATION (TSE: 6866) has grown to become a world leader in providing consistent delivery of test and measuring instruments through advanced design, manufacturing, and sales and services. By offering over 200 main products characterized by safety and quality while meeting an expansive range of applications, we aim to contribute to the efficiency and value of our customers' work in research and development, production and electrical maintenance. HIOKI products and services are available around the world through our extensive network of subsidiaries and distributors. Information about HIOKI is available at www.hioki.com.