STRAIN UNIT U8969
Measure acceleration, load, pressure, or strain waveforms
Key Features
Directly connect to the strain gauge transducer (bridge voltage: DC only)

Isolated 2 channel input

Max. rated voltage to ground: 30 V rms or 60 V DC

High 16-bit A/D resolution

Use in combination with the MEMORY HiCORDER series (MR6000, MR8847A, MR8827, etc.)

Meet application demands in the civil engineering, bridge building and machine tool, and automotive design fields
Model No. (Order Code)
| | |
| --- | --- |
| U8969 | For the MR6000, MR8847A, MR8827, and similar products |
Note: This module must be used with the Memory HiCorder. The strain gauge converter is not provided by HIOKI, and must be purchased from a separate vendor.
Supports strain gauge type transducers
Measurement example:
A torque sensor (strain-gage-type transducer) is connected to the Strain Unit U8969 to measure torque.
FFT analysis is performed on the measured torque signal to analyze the frequency components.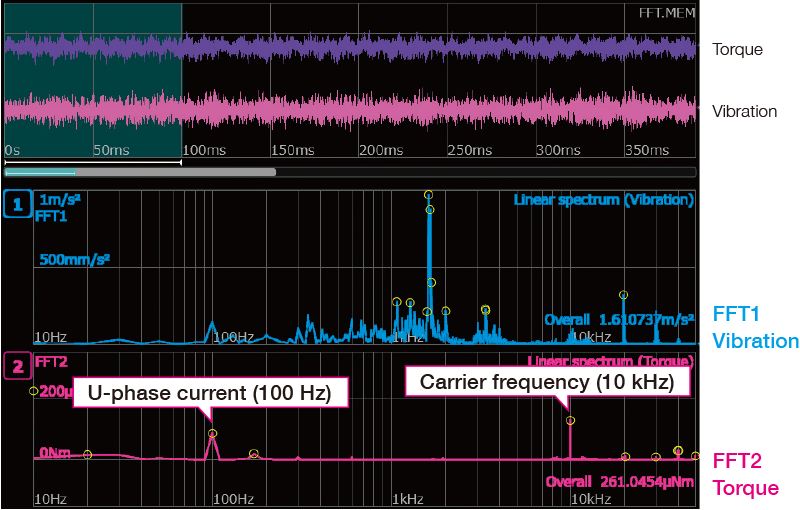 List of Available Memory HiCorders
Please refer to the table here for the types of input units that can be used for each Memory HiCorder.
Basic specifications
Accuracy guaranteed: 1 year
Measurement functions
Number of channels: 2, for distortion measurement (electronic auto-balancing, balance adjustment range within ±10 000 µε or less)
Input terminals
NDIS connector EPRC07-R9FNDIS (via Conversion Cable L9769, NDIS connector PRC03-12A10-7M10.5)
Max. rated voltage to ground: 30 V rms or 60 V DC (with input isolated from the unit, the maximum voltage that can be applied between input channel and chassis and between input channels without damage)
Suitable transducer
Strain gauge converter, Bridge impedance: 120 Ω to 1 kΩ, Bridge voltage: 2 V ±0.05 V, Gauge rate: 2.0
Measurement range
20 µε to 1000 µε/div, 6 ranges, full scale: 20 div, Low-pass filter: 5/10/100 Hz, 1 kHz
Measurement resolution
1/1250 of measurement range (using 16-bit A/D conversion)
Maximum sampling rate
200 kS/s (simultaneous sampling across 2 channels)
Measurement accuracy
After auto-balancing
±0.5% f.s. ±4 µε (5 Hz filter ON)
Frequency characteristics
DC to 20 kHz +1/-3 dB
Dimensions and mass
106 mm (4.17 in) W × 19.8 mm (0.78 in) H × 196.5 mm (7.74 in) D, 245 g (8.6 oz)
Included accessories
Conversion cable L9769 × 2 (cable length 60 cm/1.97 ft)
Options (1)
Conversion Cable L9769 is a bundled accessory

CONVERSION CABLE L9769
For the U8969 (MR6000 and similar products) only, bundled with the U8969, 2 cables set, 60 cm (1.97 ft) length
---
Related Products