Product Sep. 28, 2022
Accelerating the use of IT in the work field with enhanced Cloud Services. GENNECT Cloud significantly upgraded.
On September 28, 2022, HIOKI E.E. Corporation upgraded its telemetry service GENNECT Cloud SF4180. GENNECT Cloud is a cloud service that uploads measured data to a cloud server for sharing, recording, and monitoring measurement data. This time, GENNECT Cloud has been renovated with a more convenient and supported software.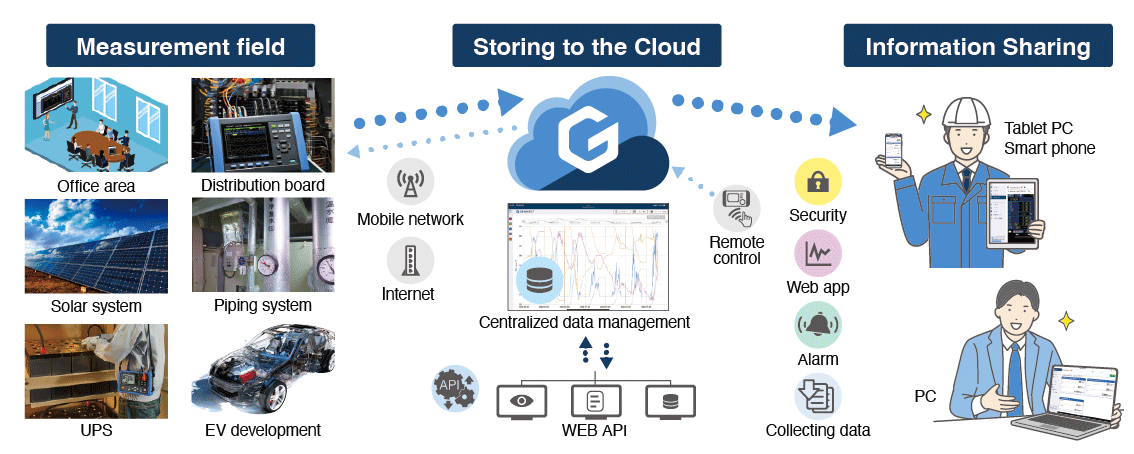 Gennect Cloud usage image
Development Background
With the development of technology, stable operation of electrical facilities is becoming more significant every year. For stable operation of equipment, recording and monitoring of elements such as voltage, current, or temperature is necessary. The traditional method of monitoring records where measured data needs to take back to the office in a form of paper or recording media in order to create a report. In recent years, there has been a growing demand for IT-based recording and monitoring operations to save labor in terms of work time and travel costs.

Up until now, GENNECT Cloud has supported the degitalization of record monitoring and labor saving with the integration of GENNECT Remote, a telemetry service. With the latest version upgrade, GENNECT Cloud can handle measurement data from GENNECT Cross, a smartphone application for on-site measuring instruments, and GENNECT One, PC software for building measurement systems, making it possible to use GENNECT Cloud overseas as well.
Overview
GENNECT Cloud is a cloud service that supports telemetry. Data from measurement instruments installed in remote electrical facilities can be recorded and shared on a cloud server. It is also equipped with many functions such as data viewing via a smartphone or PC browser, and alarm reporting through continuous monitoring. The ability to remotely control instruments helps reduce travel time and business trip expenses.
Features
1.

Information sharing is possible regardless of time and place
Measurement data is stored in the cloud and can be viewed anytime via smartphone or PC. Alarm is triggered for measured data that exceed set criteria.

2.

Protected and secure connection
An ID and password are required to view measurement data. Important information is protected by 2-step authentication and IP address restrictions, enhancing security in an accessible manner.

3.

Remote instrument operation
GENNECT Cloud allows you to operate instruments remotely.

4.

System integration through Web API
Measurement data can be shared with customer systems and web services by using Web API, a communication command. Measurement data can be added to existing facility monitoring system.
Applications
- Monitoring of environmental data such as temperature and illumination at remote locations
- Monitoring the operation status of solar power generation systems
- Monitoring of abnormalities in Electrical Equipment
We are running a Standard Plan Trial Campaign until December 31, 2022.
Please see the campaign page for details.