CARD HiTESTER 3244-60
Card-style Pocket Digital Multimeter for General Electrical Maintenance and Testing
Product video
The 3244-60 is a card-style digital multimeter for general electrical maintenance and testing, and includes gold-plated test leads for better contact. Insulated test pin sleeves also prevent short-circuits.

CAT III 300 V, CAT II 600 V
Key Features
Better contact test leads with 15 mm gold-plated tip pin

Only 9.5 mm(0.37 in) thick and 60 g(2.1 oz) in weight

Full auto-ranging function and automatic power saving function

Overload protection to 500 V at resistance or continuity functions
Model No. (Order Code)
Card-size tester that's easy to use in the field
Thanks to a compact design that's less than 1 cm thick, this instrument is easy to carry and a breeze to use.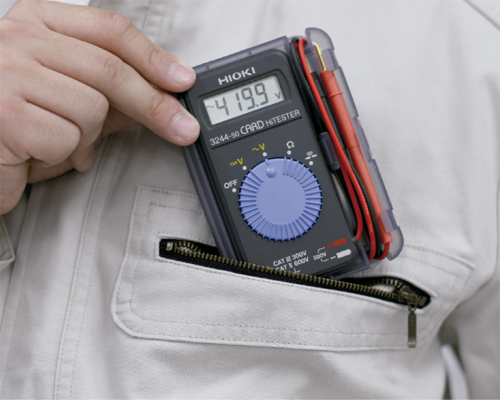 Test leads that reach all the way into outlets
Featuring a gold-plated tips that are 15 mm long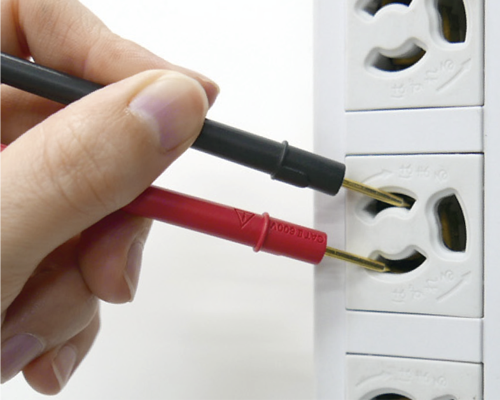 Included hard case for tidy storage
The instrument's test leads can be wound up and stowed in this hard case. Dimensions: Approx. 80 (W) × 116 (H) × 17 (D) mm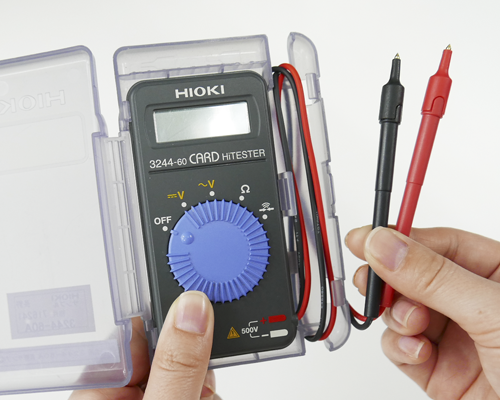 CAT III (300 V) safety
This card tester can perform measurement safely at a high measurement category. It also includes a cap designed to prevent short-circuits.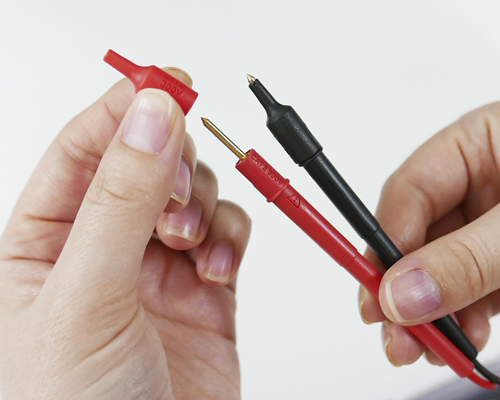 Tester with a simple, easy-to-read display
A simple display with large text ensures measured values are easy to read.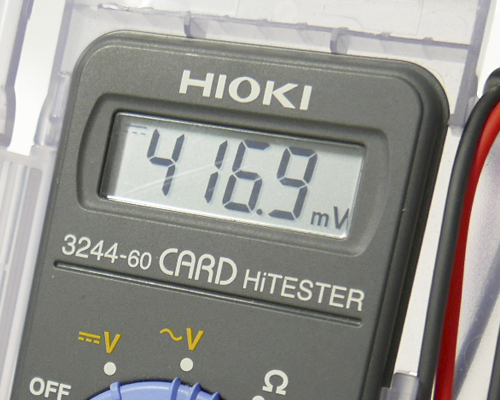 Basic specifications
Accuracy guaranteed: 1 year Regarding DMM Accuracy: Due to the many ranges and functions available in a DMM, only the basic accuracy is indicated for reference. Please refer to the brochure for detailed accuracy information.
| | |
| --- | --- |
| DC Voltage range | 419.9 mV to 500 V, 5 ranges, Basic accuracy: ±0.7 % rdg. ±4 dgt. |
| AC Voltage range | 4.199 V to 500 V, 4 ranges, Basic accuracy 50 - 500 Hz : ±2.3 % rdg. ±8 dgt. (Average rectified) |
| Resistance range | 419.9 Ω to 41.99 MΩ, 6 ranges, Basic accuracy: ±2.0 % rdg. ±4 dgt. |
| Continuity buzzer | Detection level 50 Ω ±40 Ω, Diode check: Not available |
| Auto power save | Available (cancel selectable) |
| Display | Digital LCD, max. 4199 digits |
| Sampling rate | 2.5 times/sec |
| Power supply | Coin type lithium battery (CR2032) ×1, Continuous use: 150 hours |
| Dimensions and mass | 55 mm (2.17 in) W × 109 mm (4.29 in) H × 9.5 mm (0.37 in) D, 60 g (2.1 oz) |
| Included accessories | Instruction manual ×1, Carrying case ×1, Coin type lithium battery (CR2032) ×1 (for trial purposes only), Sleeves (Red/ Black each 1) |
Options (1)

CARRYING CASE C0204