Product May. 25, 2020
Hioki Delivers WPT Evaluation System to the Japan Automobile Research Institute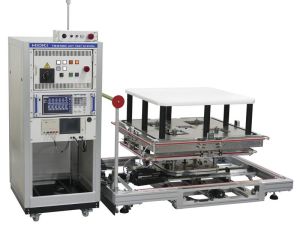 WPT Evaluation System TS2400
Hioki is pleased to announce the delivery in March 2020 of the WPT*1 Evaluation System TS2400, a solution for use in evaluation testing of wireless power transmission devices designed for electric vehicles, to the Japan Automobile Research Institute (JARI).
The TS2400 automatically performs evaluation testing in accordance with the SAE J2954*2 industrial standard, which is scheduled to be issued in the near future.
By automating testing that has been performed manually in the past, the system delivers high measurement reproducibility and efficiency.
Hioki will continue to help realize a sustainable society by supplying products that help smooth research, development, and evaluation testing of electric vehicles, a field characterized by growing demand.
*1

WPT: Wireless Power Transmission

*2

SAE J295: An international standard that will be issued by the U.S.-based Society of Automotive Engineers (SAE International) to address aerospace and overland transport equipment such as automobiles. J2954 will introduce standards for WPT systems designed for use in electric vehicles.
KEY FEATURES
Reproducible measurement and dramatically improved measurement efficiency through automation of evaluation testing
The system can measure up to 3,000 points per hour as a coil placed on its moving stage (which has a diameter of 900 mm) moves in three dimensions. Automating these evaluation tests eliminates the need for technicians to position the coils manually, making the measurements easily reproducible. In addition, the system can be set up to perform automatic measurements late at night so that they are finished by morning, dramatically improving the efficiency of the evaluation process.
About HIOKI
Established in 1935, HIOKI E.E. CORPORATION (TSE: 6866) has grown to become a world leader in providing consistent delivery of test and measuring instruments through advanced design, manufacturing, and sales and services. By offering over 200 main products characterized by safety and quality while meeting an expansive range of applications, we aim to contribute to the efficiency and value of our customers' work in research and development, production and electrical maintenance. HIOKI products and services are available around the world through our extensive network of subsidiaries and distributors. Information about HIOKI is available at www.hioki.com.