Product May. 04, 2020
Hioki Launches AC Leakage Clamp Meter CM4001
New Clamp Meter Fast-Tracks Current Leakage Checks with Unparalleled Ease of Use and New Functionality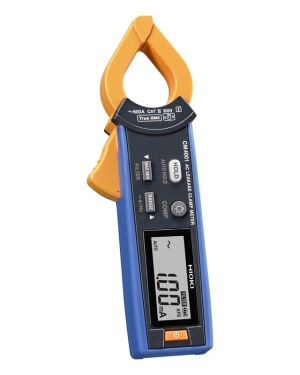 CM4001 AC Leakage Clamp Meter
The CM4001 is a compact clamp meter that measures everything from AC leakage current to AC load current. Its jaws, which house its current sensor, are shaped so that they can be clamped around wires in confined, complex installations safely and easily to speed up the measurement process. Further, a new comparator function halves the amount of time needed to carry out current leakage checks by alerting users to comparative measurement results with audio and visual cues.
DEVELOPMENT BACKGROUND
The process of maintaining electrical equipment in buildings and plants includes periodic insulation management. Since current leaks can lead to equipment malfunctions and electric shock, it is essential to locate them quickly. Additionally, in today's world where electric power is critical to our everyday lives, electricity users demand maintenance methods that do not necessitate power interruptions.
Technicians use leakage clamp meters to measure current quickly and easily simply by clamping them around wires, eliminating the need to shut off the power. Conventional designs have circular jaws to ensure performance, making them difficult to clamp around wires. Furthermore, the recent trend toward compact distribution panels has led to installations whose closely spaced wires sometimes defy measurement with conventionally shaped instruments. As a result, technicians have to spend more time and effort carrying out regular inspections and leakage checks.
Hioki currently offers a lineup of clamp meters with an innovative jaw profile that makes the instruments easier to clamp around wires. Leveraging that technology, the company developed a leakage clamp meter that is even easier to clamp around wires while maintaining the level of performance required in leakage current measurement. The new test tool also features a comparator function that will help customers boost work efficiency by streamlining the leakage check process.
KEY FEATURES
1. Easy-to-clamp jaws for streamlined measurement
Thanks to a jaw profile that slips readily into confined, complex wiring installations, the CM4001 can be clamped around wires safely and easily. This design smooths the measurement process and shortens work times. In doing so, it eases the workload on the technicians who are responsible for managing equipment and increases safety by eliminating the need to pull out wires in order to test them.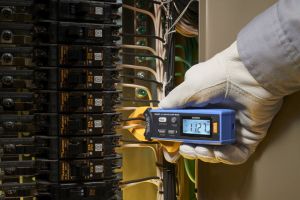 2. New comparator function for faster leakage checks
A new comparator function compares a user-set reference value with the indicated value to generate aninspection decision. Since the result is communicated by means of sound and light, users can quickly pinpoint current leaks without needing to look at values on the display. Together, the easy-to-clamp jaw profile and comparator function let customers double work speed compared to conventional designs.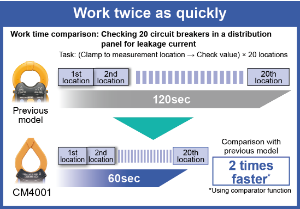 3. Ability to measure everything from leakage current to load current
With accuracy guaranteed from 0.60 mA to 600.0 A, the CM4001 provides a one-stop solution for a range of field measurement needs. The instrument's 24 mm clamp diameter readily accommodates thick, closely spaced wires and double wires.
4. Wireless Adapter Z3210 with BluetoothR wireless technology for easier post-measurement workflows (option)
When connected to the optional Wireless Adapter Z3210 (available soon), the CM4001 can be paired wirelessly with a tablet or smartphone using BluetoothR. Customers can then use GENNECT Cross, Hioki's free smartphone app, to review and record measurement results on their smartphone.

*

The BluetoothR word mark and logos are registered trademarks owned by Bluetooth SIG, Inc. and any use of such marks by HIOKI E.E. CORPORATION is under license.
PRIMARY APPLICATIONS
Leakage current measurement: Insulation management and leakage checks
Load current measurement: Electrical equipment inspections
About HIOKI
Established in 1935, HIOKI E.E. CORPORATION (TSE: 6866) has grown to become a world leader in providing consistent delivery of test and measuring instruments through advanced design, manufacturing, and sales and services. By offering over 200 main products characterized by safety and quality while meeting an expansive range of applications, we aim to contribute to the efficiency and value of our customers' work in research and development, production and electrical maintenance. HIOKI products and services are available around the world through our extensive network of subsidiaries and distributors. Information about HIOKI is available at www.hioki.com.