Product Feb. 21, 2020
PQ ONE Power Quality Analysis Software Updated to Version 6.20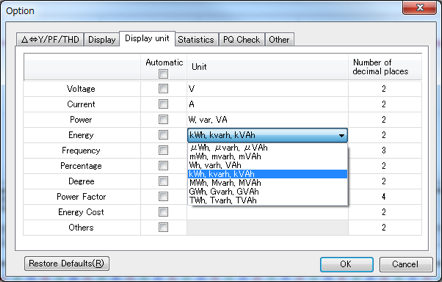 Select from a list of popular units of measurement
Hioki is pleased to announce that PQ ONE, the free Windows application for Hioki Power Quality Analyzer PQ3100 and PQ3198, has been updated to version 6.20 to deliver enhanced functionality and fix minor bugs.
The software will now offer the following new function:
The displayed unit of measurement and the number of digits after the decimal point of the measured value can be selected by the user.
In the previous software version, the display unit (e.g., kW or MW for power) is automatically assigned based on the wiring method and the range selected for recording. In this updated version, the user can change the display unit as required (e.g., kW for active power). The number of digits after the decimal point is also configurable.
About HIOKI
Established in 1935, HIOKI E.E. CORPORATION (TSE: 6866) has grown to become a world leader in providing consistent delivery of test and measuring instruments through advanced design, manufacturing, and sales and services. By offering over 200 main products characterized by safety and quality while meeting an expansive range of applications, we aim to contribute to the efficiency and value of our customers' work in research and development, production and electrical maintenance. HIOKI products and services are available around the world through our extensive network of subsidiaries and distributors. Information about HIOKI is available at www.hioki.com.