Product Nov. 30, 2020
Hioki Launches In-Circuit Tester FA1220-02
Slide-in mechanism boosts productivity of populated board testing
Hioki is pleased to announce the launch of the In-Circuit Tester FA1220-02.
FA1220-02 which is the space-saving design system generating pass/fail judgments for circuit boards that are populated with electronic components.
Its slide-in mechanism simplifies installation and removal of test fixtures*, reducing man-hours and workload and improving productivity in populated board testing and production environments.
*

Test fixture: A test jig with embedded contact probes (test pins) that are aligned with the desired test points.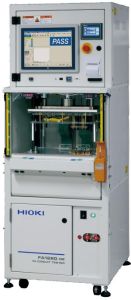 In-Circuit Tester FA1220-02
DEVELOPMENT BACKGROUND
In-circuit testers with upper and lower test fixtures inspect circuit boards by placing all probes on their fixtures in contact with the board under test. Test locations vary from board to board, so the test fixtures have to be changed to accommodate the type of circuit board being tested.
As the functionality and density of populated circuit boards have brown in recent years, so has the number of components mounted on those boards, leading to increases in the number of test locations. Such boards require a large number of probes, which increases the weight of test fixtures. Many manufacturers rely on multi-model, small-lot production systems, with the result that changing test fixtures to accommodate the type of board being produced imposes a significant burden on workers.
KEY FEATURES
1. Slide-in mechanism for easy installation and removal of test fixtures
In the past, workers had to lift up the lower test fixture and insert it into the tester's frame. Then they had to install the upper test fixture and connect the two fixtures with cables.
The FA1220-02 features a slide-in mechanism with a large opening that makes it easy to install test fixtures. Pulling down front cover so that operator can install fixture easily while his/her body posture is comfortable.
Hioki also redesigned the test fixtures to integrate the upper and lower fixtures into a single unit for easier storage, installation, and removal*. Since the test fixtures are already connected when they're installed into the tester, there's no need to connect or disconnect cables. Furthermore, the design saves storage space.
*

This option must be specified at time of order.
2.Touch Panel PC
Touch panel PC is adopted for operation. Basic operaton such as switching screen, loading test program, starting tests and manual test can be executed on touch PC instead of using keyboard and/or mouse.
3.Automatic Connection with using One Touch Connector (factory option)
Simple touch panel operation allows you to complete connection works of One-Touch Connector. You can make sure contacts of the connector easily even if you are not required to operate the lever manually.
4. Support for more test points
The FA1220-02's highly integrated measurement unit serves as the system's testing core. Even when equipped with the maximum 2,048 pins*, the system takes up no more floor space than the previous 1220-52. Test programs and test fixtures provide upstream compatibility with previous models.
*

Requires 16 additional scanner boards.
PRINCIPAL APPLICATIONS
Testing and production of populated circuit boards
 Circuit boards used in automobiles and industrial equipment such as robots that is required to deliver a high level of reliability
About HIOKI
Established in 1935, HIOKI E.E. CORPORATION (TSE: 6866) has grown to become a world leader in providing consistent delivery of test and measuring instruments through advanced design, manufacturing, and sales and services. By offering over 200 main products characterized by safety and quality while meeting an expansive range of applications, we aim to contribute to the efficiency and value of our customers' work in research and development, production and electrical maintenance. HIOKI products and services are available around the world through our extensive network of subsidiaries and distributors. Information about HIOKI is available at www.hioki.com.