Product Dec. 14, 2020
Hioki Launches Clamp on Earth Tester FT6380-50 and Insulation Tester IR4057-50
New instruments feature compatibility with Wireless Adapter Z3210
Hioki is pleased to announce the launch of the Clamp on Earth Tester FT6830-50 and the Insulation Tester IR4057-50, both of which are compatible with the Wireless Adapter Z3210.
The Wireless Adapter Z3210 can be connected to either instrument to enable Bluetooth® wireless communications with smartphones and tablets. Users can enter measurement data directly into an Excel® form* or use GENNECT Cross, a free application from Hioki, to record measurement results on site photographs or construction drawings.
This capability allows the entire series of steps from measurement to report creation to be carried out in the fi eld for applications such as completion inspections following the installation of electrical equipment and subsequent regular inspections, reducing workload and eliminating the risk of transfer errors.
*Hioki plans to add functionality for direct entry of values into Excel sheets to the Z3210 in 2021.
Development Background
It is against this backdrop that Hioki is expanding its line of field measuring instruments that support Bluetooth® wireless communications in order to streamline measurement and testing work while accommodating new workstyles. As part of that effort, the company added support for Bluetooth® wireless communications to its phase detector with built-in voltmeter, an instrument that plays an essential role in electrical equipment installation and completion inspections.
Previous versions of both models already supported Bluetooth® wireless communications, but Hioki updated them to add convenience and enhance interoperability with other models that support GENNECT Cross.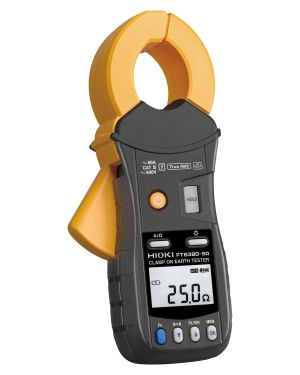 Clamp on Earth Tester FT6380-50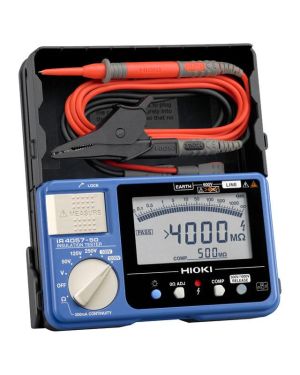 Insulation Tester IR4057-50

Wireless Adapter Z3210
Benefi ts of using the Z3210
1.Directly entering values into an Excel® sheet (coming to the Z3210 in 2021)
Measured values can be directly entered into an Excel® sheet.
When a user opens an Excel® fi le and presses the HOLD button on the instrument while a cell is selected in the fi le, the measured value will be entered into the selected cell. This functionality will be useful for customers using a dedicated format to report results.
In insulation resistance measurement applications, which arecharacterized by a particularly large number of measurement locations, the Z3210 streamlines work by allowing the user to enter readings directly into an Excel® form, eliminating the need to record values on paper in the fi eld and later create a report on a computer.
2. Easy data management using GENNECT Cross, a free application
GENNECT Cross can be used to review, manage, and create reports with measurement results.
Other functionality allows users to manage data smoothly in the field, for example by placing measurement results on, or adding handwritten memos to, photographs of measurement sites or construction drawings that have been imported into the mobile device.
The application can also use maps.
Previous clamp-on earth testers used a dedicated application (available for Android ™ only) that was not compatible with other products that supported Bluetooth® wireless communications. This update allows the instrument to connect to GENNECT Cross, which supports numerous other models, so that reports can be managed along with measured values from other supported instruments. It also broadens support to include iOS devices.
FT6380-50 Features
The FT6380-50 measures grounding resistance in order verify proper grounding, which is essential to prevent hazards such as electric shock and fi res. Clamp-on earth testers need only be clamped around a grounding wire, making it easy to measure grounding resistance in multiple-earth installations including warehouses, transmission towers, and lightning rods.
1.Get things done with super slim jaws
Thanks to a thin sensor that measures just 20 mm in width, the instrument can be inserted into the confined spaces in which grounding wires are often found.
2. Larger grip for improved usability
The grip used to open the sensor has been enlarged and redesigned so that the jaws can be opened with just two fi ngers. As a result, the instrument can now be used with an even lighter touch.
IR4057-50 Features
Insulation resistance meters are used to prevent electric shock and short-circuits caused by the deterioration of insulation over the course of extended use in electrical devices, components, and equipment in manufacturing plants and other buildings.
1.Identify PASS / FAIL using Convenient for inspections light and sound
Compare measured values to pre-set reference values to generate a pass or fail decision with the Comparator function.
2.Signifi cantly improve testing speed using test lead with remote switch (Option)
The optional Test Lead with Remote Switch L9788-11* includes an LED light to simplify work in dim or dark settings.
Features like a switch for starting measurement and functionality for using colors to report pass/fail judgments relative to a previously set reference value streamline work by eliminating the need to operate or check the instrument.
*

Product does not comply with part 4.3 of EN 61557 when using the L9788-11.
*

Company and product names used in this release are the trademarks or registered trademarks of their respective owners.
About HIOKI
Established in 1935, HIOKI E.E. CORPORATION (TSE: 6866) has grown to become a world leader in providing consistent delivery of test and measuring instruments through advanced design, manufacturing, and sales and services. By offering over 200 main products characterized by safety and quality while meeting an expansive range of applications, we aim to contribute to the efficiency and value of our customers' work in research and development, production and electrical maintenance. HIOKI products and services are available around the world through our extensive network of subsidiaries and distributors. Information about HIOKI is available at www.hioki.com.