News Sep. 11, 2023
Lithium Ion Battery Pack Testing
Updates : Sep. 11, 2023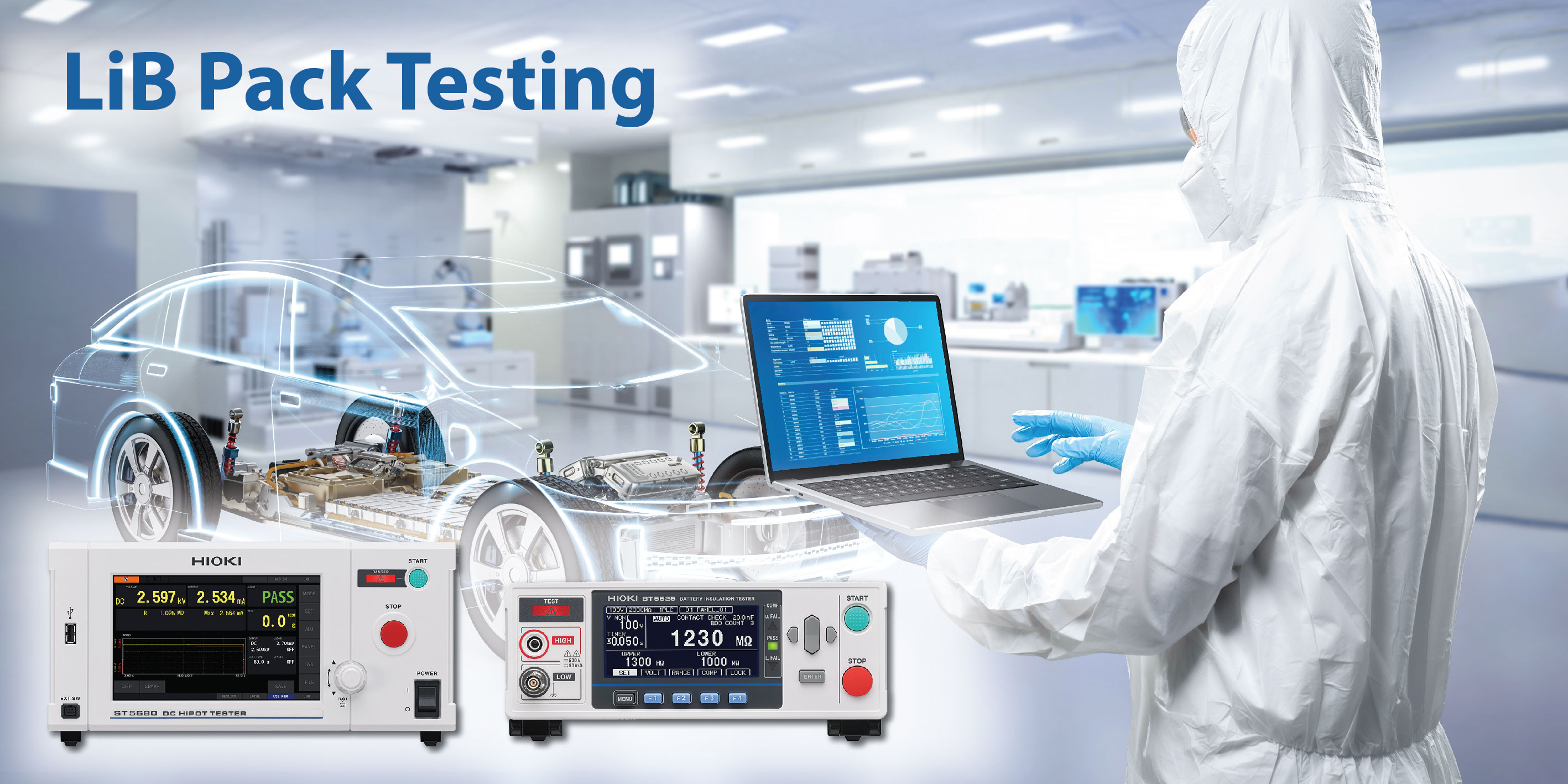 ---
The evolution of batteries has led to significant advancements across multiple sectors, fueling everything from handheld devices and electric cars to renewable energy storage systems. However, the rising demand for batteries that provide greater energy density and longevity comes with increased complexity in their testing processes. The task of guaranteeing the safety and functionality of these battery packs is crucial in preventing disastrous malfunctions, enhancing performance, and complying with strict regulatory standards in the manufacturing process.
We will examine the challenges of testing Lithium battery packs, uncovering their unique design features and operational traits. We'll navigate through various aspects, from safety considerations to quality control tests for batteries, which necessitate meticulous examination procedures and practical solutions to ensure these powerhouses' safety and dependability.
Hipot Test vs. Insulation Test
Insulation and Hipot (high potential) are electrical tests commonly performed on batteries of electric vehicles (EVs) to ensure their safety and proper operation. However, they serve different purposes and focus on the battery system's electrical integrity.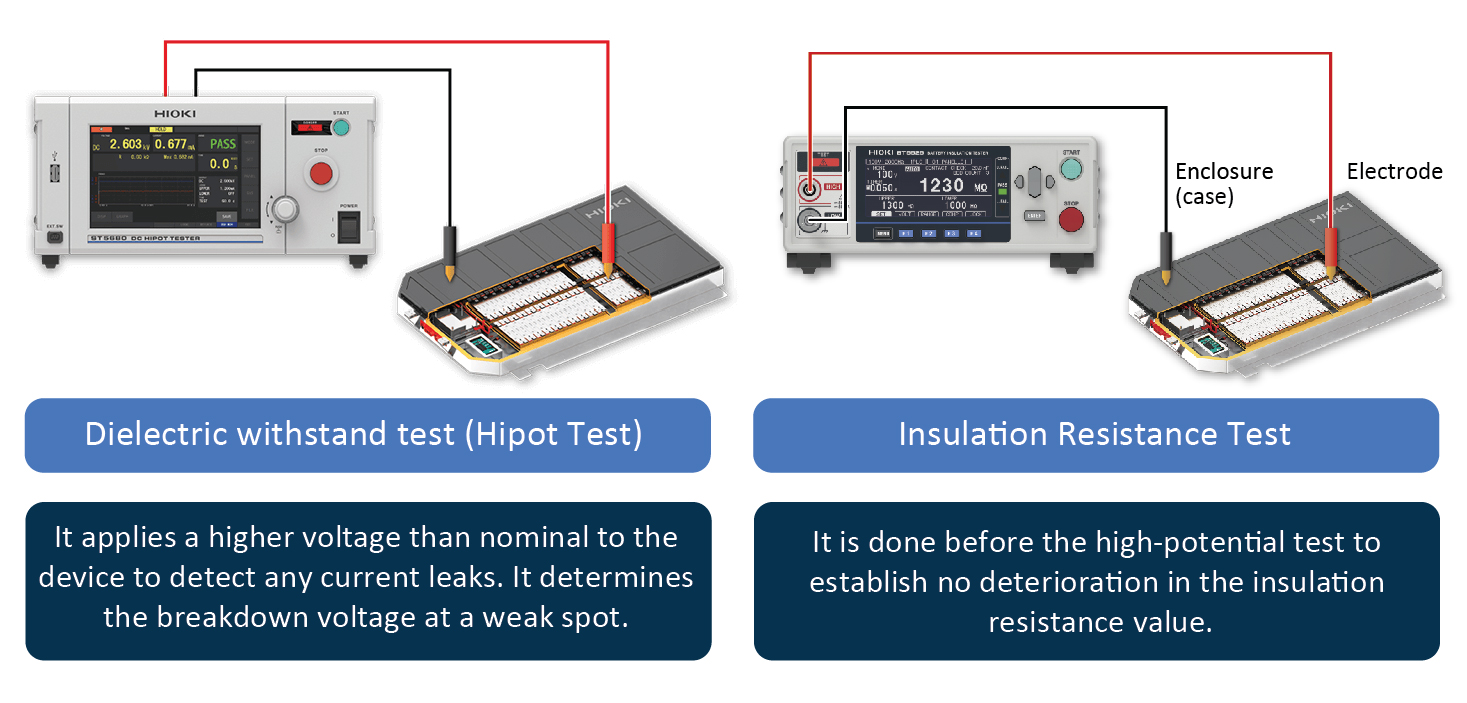 ​​​Automated Battery Module Welding Test
An electric vehicle's battery pack may encompass over 40,000 welding points. For these batteries to operate safely and reliably, each weld must be devoid of imperfections. Recognizing minute welding errors that could have been previously unnoticed is essential for manufacturers.
A cutting-edge, precise, automated solution that guarantees the quality of welding for battery modules.

•Features an entirely autonomous 4-arm motion system.
•Transitioning between probing points is remarkably simple.
•Performs seamlessly even when faced with a mixed variety of terminal layouts.
•Testing speed: Reaches up to 2400 cells per minute.
​​​
Battery Quality and Internal Resistance (AC-IR)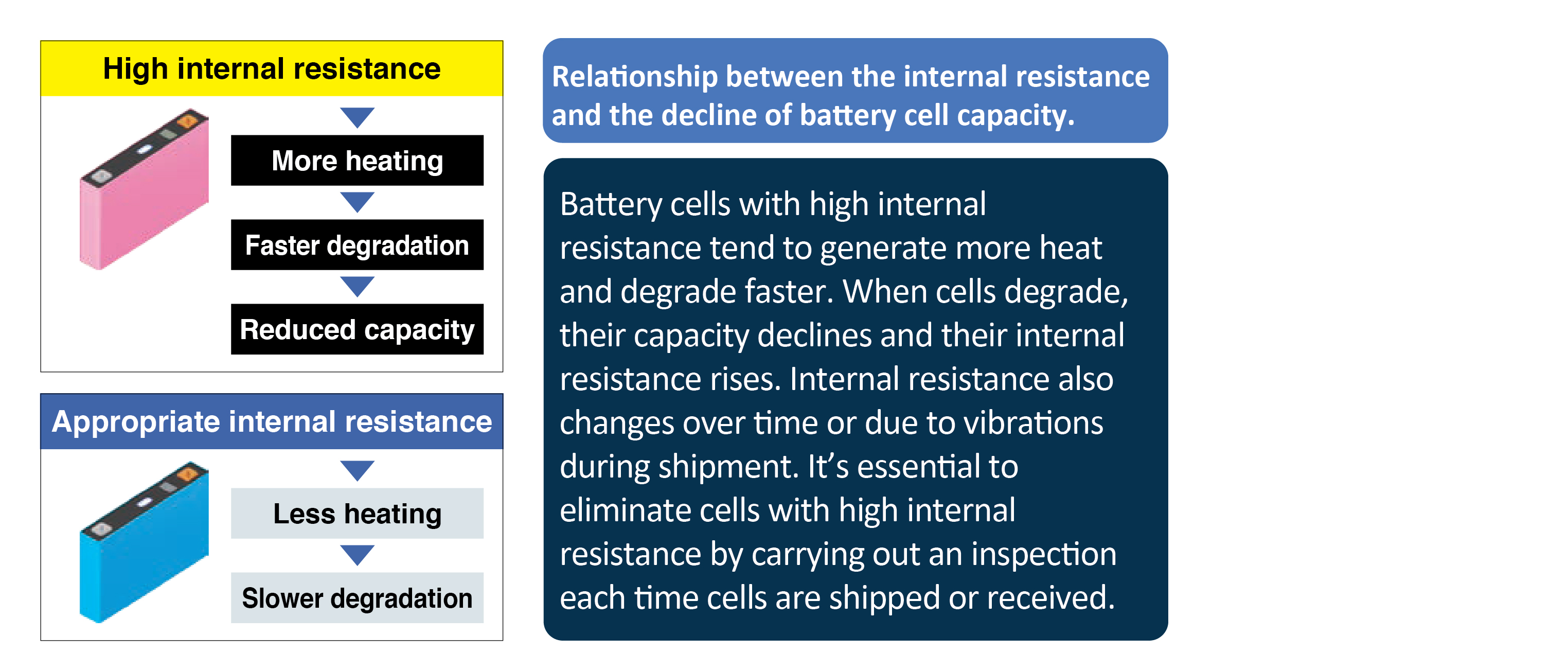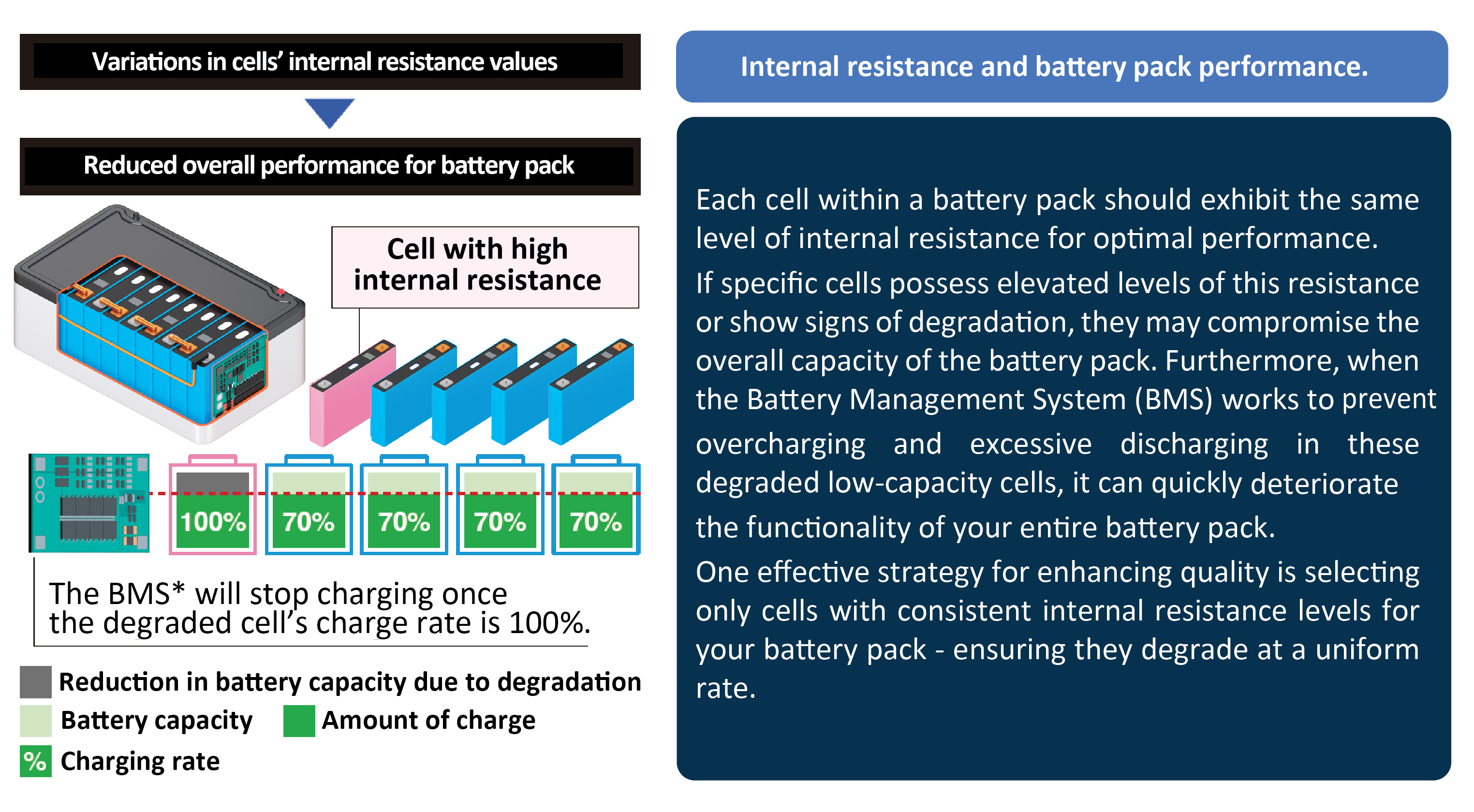 ​​​Battery Quality and Internal Resistance (AC-IR)
We offer various quality control solutions for lithium batteries, ranging from small cells (3.7V) to large battery packs for EV trucks (up to 1000 V).
The subsequent graph illustrates the recommended battery testers based on the open-circuit voltage (OCV) and internal resistance (AC-IR).
Discover the most suitable battery tester for your testing needs today! Sign up for a demo and see the accuracy and reliability of our advanced testing solutions.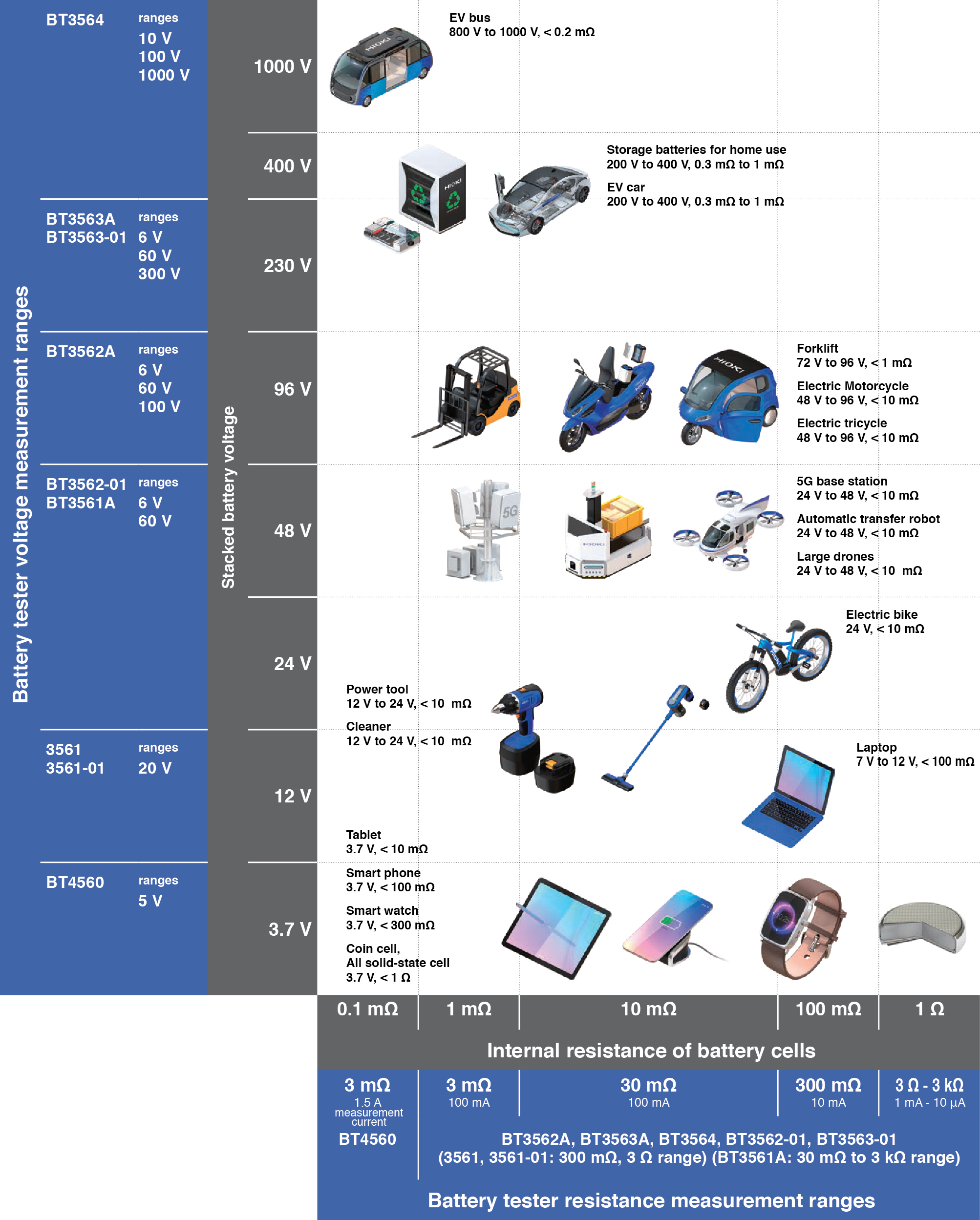 Battery Pack Measurement Handbook: Fundamentals and Applications
This resource gives you insight into various aspects of Lithium-ion Battery (LiB) pack evaluations. It covers vital parameters, including welding resistance, internal resistance, high potential (Hipot) testing, Battery Management System (BMS) assessment, and load testing, all of which are crucial in determining battery performance and health. The guide also details different methods and tools for measuring these parameters, providing you with the knowledge to obtain precise data. By interpreting these measurement results, you can refine battery management systems, leading to increased efficiency, safety, and lifespan of LiB packs.