TACHO HiTESTER FT3405, FT3406
Wide Range Industrial-Grade Digital Tachometers for Non-Contact and Contact Rotation and Cycle Measurements
The Hioki FT3405 and FT3406 are portable, contactless digital tachometers that use reflected visible spectrum light to measure the speed of a rotating object to which reflective tape has been affixed. The instruments can also be used as a contact-type tachometer by attaching the Z5003 Contact Adapter.


Key Features
Convenient analog and pulse output functions

Dust-proof construction and drop-proof to 1 meter

Wide measurement range of 0.5000 r/s (30.00 r/min) to 99990 r/min

Contact style testing available with optional contact adapter

Convenient analog and pulse output functions (FT3406 only)

Optional AC Adapter (FT3406 only)
Model No. (Order Code)
| | |
| --- | --- |
| FT3405 | Discontinued |
| FT3406 | Discontinued, With analog output, pulse output |
Contactless measurement
Contactless performance ensures safety and peace of mind when measuring rotating objects that are recessed inside equipment or whose movement poses a hazard. Simply apply reflective tape to the object being measured, point the instrument at the tape, and press the button.

The instrument can detect rotation from a distance of 500 mm while illuminating the measurement location with red light to help you aim it precisely. The HOLD key turns red following accurate measurement and the instrument beeps, so there's no need to worry about whether the target object has been measured properly.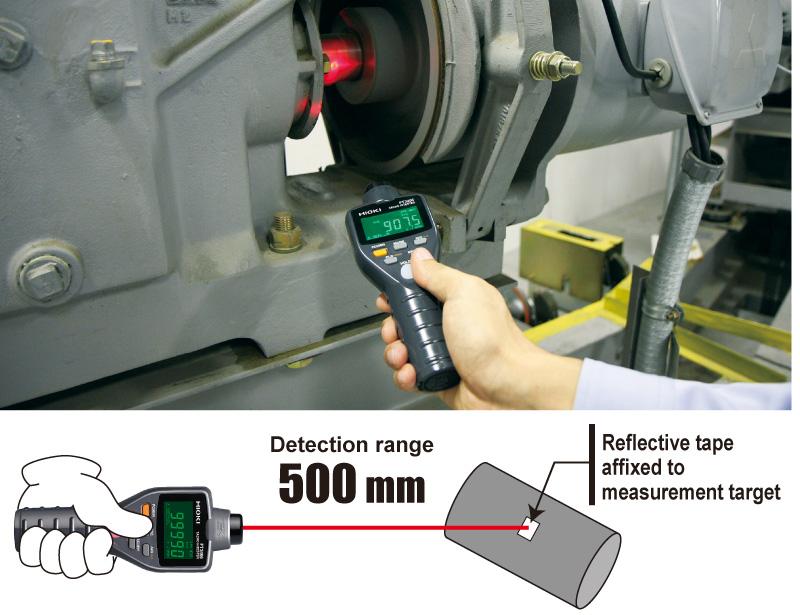 Contact measurement
The FT3405/FT3406 can also be used as a contact-type tachometer by attaching the optional Contact Adapter Z5003. The adapter has a replaceable tip, so you can choose the contact tip that's best suited to the object being measured.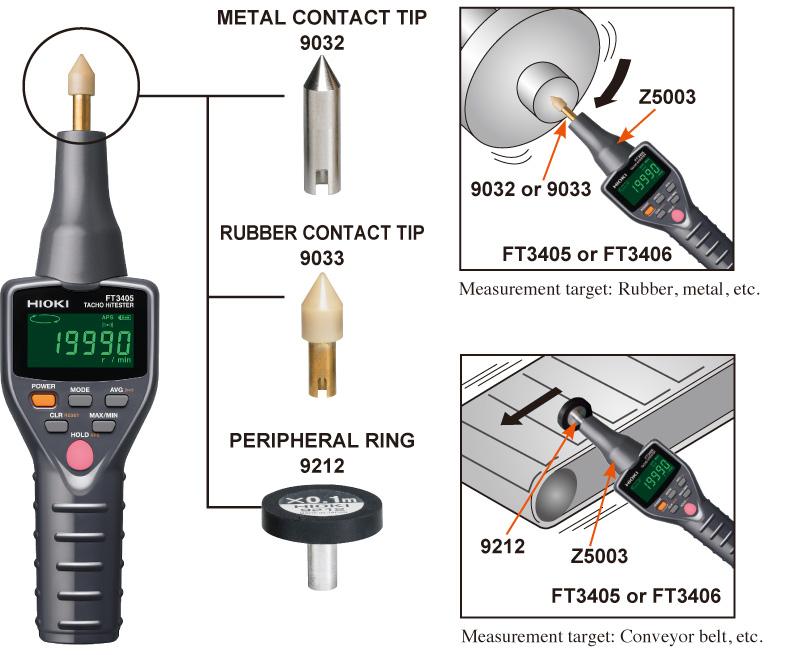 Durable construction built to withstand being dropped and getting dirty
The FT3405/FT3406 is built to withstand being dropped, so it won't break easily, even if it slips and falls out of your hands.
IP50 dust-proof structure makes the Tacho HiTesters tough against the dirt and dust that are unavoidable in field environments.

*IP codes indicate water and dust resistance standards defined by the International Electrotechnical Commission (IEC). They consist of two digits, the first of which indicates dust protection and the second water protection. An IP code of 50 has dust protection of 5, indicating that the device in question provides sufficient protection against dust to avoid interference with device operation and safety.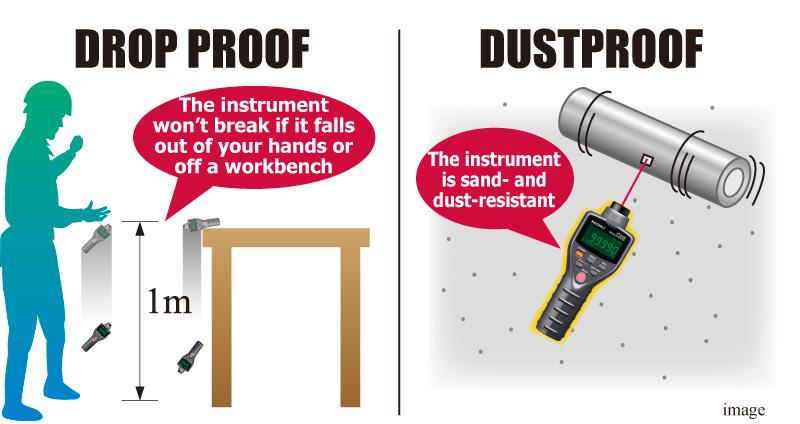 Flexibility to accommodate different use cases
Thanks to a grip that's designed to fit snugly in the hand, the instrument can be held and operated single-handedly.

There's also a tripod mounting hole so that the instrument can be secured on a tripod during measurement.
This feature is convenient when you need to perform measurement over an extended period of time.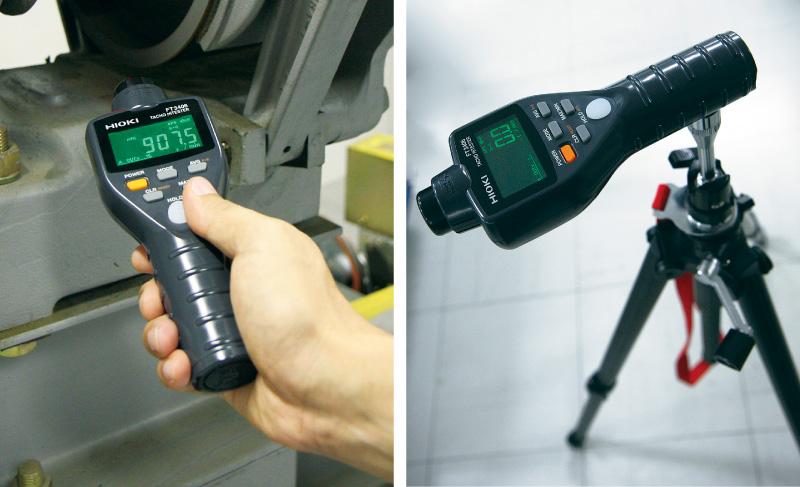 Ability to track changes with analog and pulse output of RPM
<FT3406 only>
Measure signal variations with a waveform recorder or data logger by using the FT3406's analog output or pulse output functions.

Use a multi-channel logger in combination with input from other types of sensors, or a multi-channel recorder to simultaneously measure voltage and current.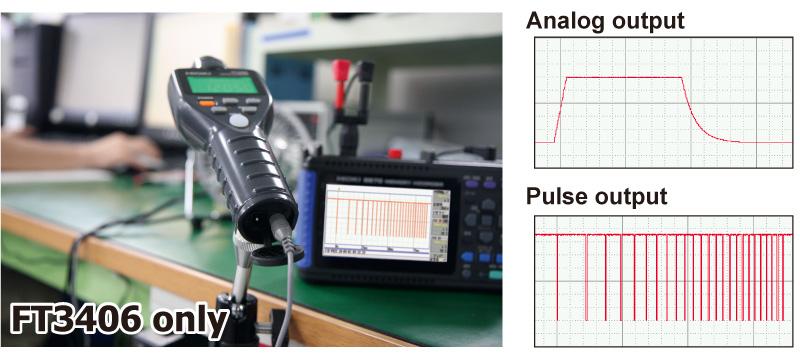 Basic specifications
Accuracy guaranteed: 1 year
 
FT3405
FT3406
Measurement method
Non-contact: Using red visible-spectrum light and reflective tape
Contact: Using optional Contact Adapter
Measurement ranges
Non-contact, AVG=ON
Rotation (r/min) : (30.00 to 199.99) to (20000 to 99990), Rotation (r/s) : (0.5000 to 1.9999) to (200.0 to 1600.0), Period (ms) : (0.6000 to 1.9999) to (200.0 to 1999.9), Count : 0 to 999999
Measurement ranges
Contact, AVG=ON
Rotation (r/min) : (15.00 to 199.99) to (2000 to 19999), Rotation (r/s) : (0.2500 to 1.9999) to (200.0 to 333.00), Period (ms) : (3.000 to 19.999) to (200.0 to 3999.9), Count : 0 to 999999
Measurement ranges
Contact, AVG=ON
Straight-line speed (meter/min) : (1.500 to 19.999) to (200.0 to 1999.9)
Straight-line speed (meter/s) : (0.0250 to 1.9999) to (20.00 to 33.30)
*Using with the Peripheral ring 9212 (option)
Accuracy
Up to 9999 counts: ±1 dgt. (AVG=ON), ±10 dgt. (AVG=OFF)
10000 counts or more: ±2 dgt. (AVG=ON), ±20 dgt. (AVG=OFF)
20000 counts or more (r/min mode only) : ±20 dgt. (AVG=ON), ±100 dgt. (AVG=OFF)
Straight-line speed measurement only: ±0.5 % rdg. add to above-mentioned accuracy
Non-contact measuring detection range
50 mm (1.97 inch) to 500 mm (19.7 inch)
Display refresh rate
Approx. 0.5 to 10 times/s
Functions
(FT3406 only)
N/A
[Analog output] 0 to 1 V f.s., Accuracy: ±2 % f.s., Output resistance: 1 kΩ
[Pulse output] 0 to 3.3 V, Output resistance: 1 kΩ
Can use with the AC adapter for power supply
Dust and water proof
IP50 (EN60529)
IP50 (EN60529)
Common functions
MAX/MIN display, Display hold, Average, Auto power save, Buzzer sound, Drop-proof (1 m distance onto concrete surface)
Power supply
LR6 (AA) alkaline battery ×2, Max. rated consumption 0.5 VA
Operating time
Continuous use 30 hr
Continuous use 25 hr
AC power supply
N/A
AC adapter Z1004
Dimensions and mass
71 mm (2.80 in)W × 186 mm (7.32 in)H × 38 mm (1.50 in)D, 230 g (8.1 oz) (including batteries)
Included accessories
Instruction manual ×1, Reflective tape 9211 ×1 sheet (30 pieces/ 12 mm (0.47 in) × 12 mm (0.47 in) per piece), Carrying case C0202 ×1, LR6 (AA) alkaline battery ×2
Instruction manual ×1, Reflective tape 9211 ×1 sheet (30 pieces/ 12 mm (0.47 in) × 12 mm (0.47 in) per piece), Carrying case C0202 ×1, LR6 (AA) alkaline battery ×2, Output cord L9094 ×1
Options (5)
*Carrying case C0202 is bundled

CONTACT ADAPTER Z5003
(includes 9212 ×1, 9033 ×2, 9032 ×1), set model

RUBBER CONTACT TIP 9033

CARRYING CASE C0202

METAL CONTACT TIP 9032

PERIPHERAL RING 9212
Other options (2)
*Output cord L9094 is bundled with the FT3406 only, AC adapter Z1004 is for use with the FT3406 only
REFLECTIVE TAPE 9211
30 pieces/sheet, 10 sheets set, 12 mm (0.47 in) × 12 mm (0.47 in) per piece