WIRELESS FUNGAL LOGGER LR8520
Data Logger to Prevent Fungal Occurrence in Business Critical Locations
Hioki Memory HiLoggers are high-speed data loggers for recording multiple channels of voltage, temperature, resistance or humidity signals, some models providing complete isolation between channels and strong noise resistance. The Hioki LR8520 is a wireless and compact 1ch logger that records fungal index and growth prediction to easily prevent fungal growth. The logger utilizes Bluetooth® technology to either send measured data to the Hioki LR8410 Wireless Logging Station or to an Android (TM) tablet.


Key Features
High-precision ±3% RH humidity sensors

Calculate and display fungal index*1 and growth prediction
Measure temperature and humidity other than fungal index and growth prediction

Compact 1ch logger (Temperature/Humidity each 1 ch input)

Download measurement data to a tablet or computer with Bluetooth® wireless technology or capture in real time with the LR8410

Three-way power (AC adapter, AA alkaline batteries, or external 5 to 13.5 V power supply)

Store 500,000 data points per channel
*1:

Fungal index was proposed by Keiko Abe, Doctor of Agriculture and Director of the Institute of Environmental Biology (Japanese Patent Number 2710903).
Model No. (Order Code)
| | |
| --- | --- |
| LR8520 | Humidity sensor is sold separately |
The LR8520 alone is not capable of making measurements - please also purchase applicable sensor. Only the temperature and humidity sensors affect the measurement accuracy and are subject to calibration. The LR8520 logger does not require calibration. For the latest information about countries and regions where wireless operation is currently supported, please see the "Specifications" tab. Bluetooth® is a trademark of Bluetooth SIG, Inc. and licensed for use by HIOKI E.E. CORPORATION.
QR Code link to Hioki's Android app*
Scan this QR Code* with an Android device to access the Google Play download page directly.
*QR Code is a registered trademark of Denso Wave Incorporated.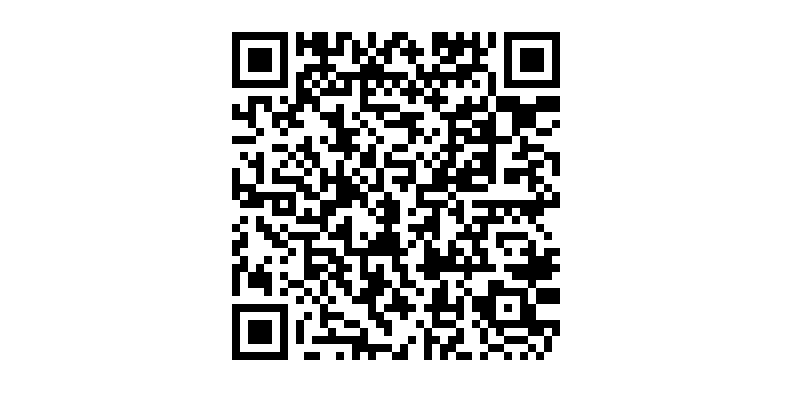 A compact 1-channel wireless logger that can predict the ease with which fungus grows
<Supported measurement parameter>
Temperature, Humidity, Fungal index, Growth prediction

● Fungal index - Calculated based on temperature and relative humidity -
This index predicts how easy it is for fungi to grow.
The fungal index is indicated by a value from 0 to 200, and can be used to predict the period of time until the start of fungal growth and contamination.

● Growth Prediction - Calculated based on the fungal index -
Since fungal growth occurs when the necessary environmental conditions are maintained over a certain period of time, the cumulative value estimated from the fungal index can be used to predict fungal contamination.
The Hioki LR8520 uses illustrations to indicate fungal growth in 5 stages based on the accumulative value.

Easily Predict Fungal Growth Based on 2 Indices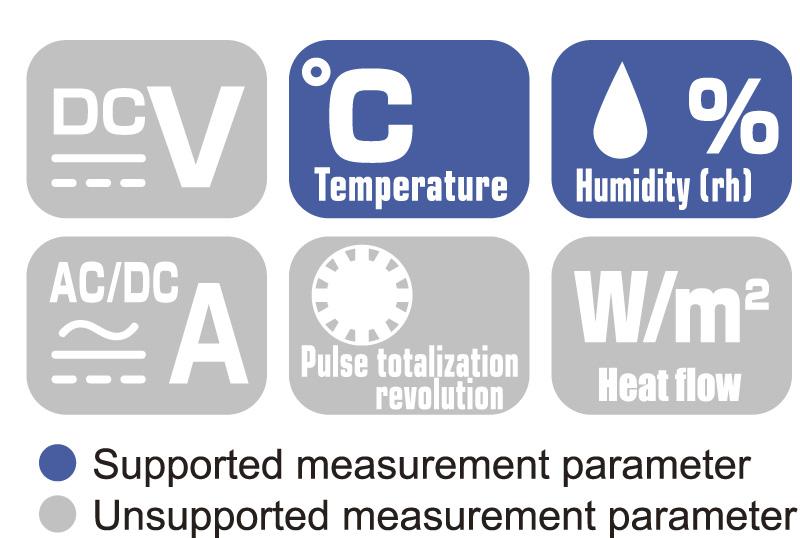 Application: Food and Grain Storage
Issue
Grain is traded in terms of weight, but its quality is maintained by keeping the grain as dry, and therefore as light, as possible.
On the other hand, increased humidity brings about the risk of fungal contamination.
If fungal contamination is discovered, the entire volume of product must be destroyed.

<< Resolved with WIRELESS FUNGAL LOGGER >>
You can easily check if environmental conditions promote fungal growth in order estimate how high the humidity can be safely raised.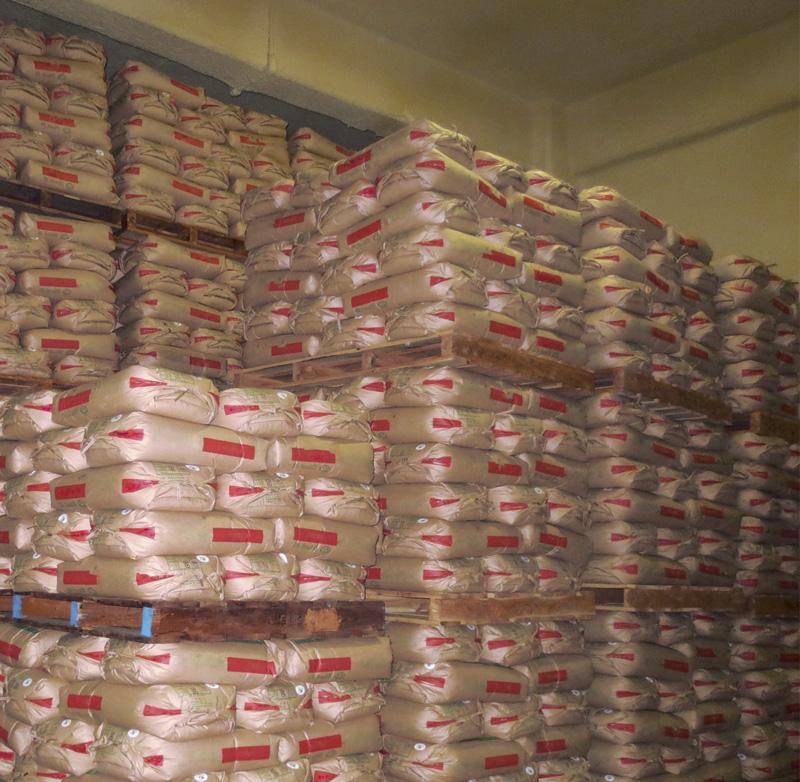 Application: Buildings
Issue
Since buildings have a high degree of air tightness, fungal growth occurs easily in any season.
In the summer, fungal growth occurs easily in areas subject to cool air from air conditioning units.
Air conditioning is set to excessively control temperature and humidity in an attempt to prevent fungal growth.

<< Resolved with WIRELESS FUNGAL LOGGER >>
Easily identify the range in which fungal growth occurs in order to moderate air conditioner settings and conserve energy.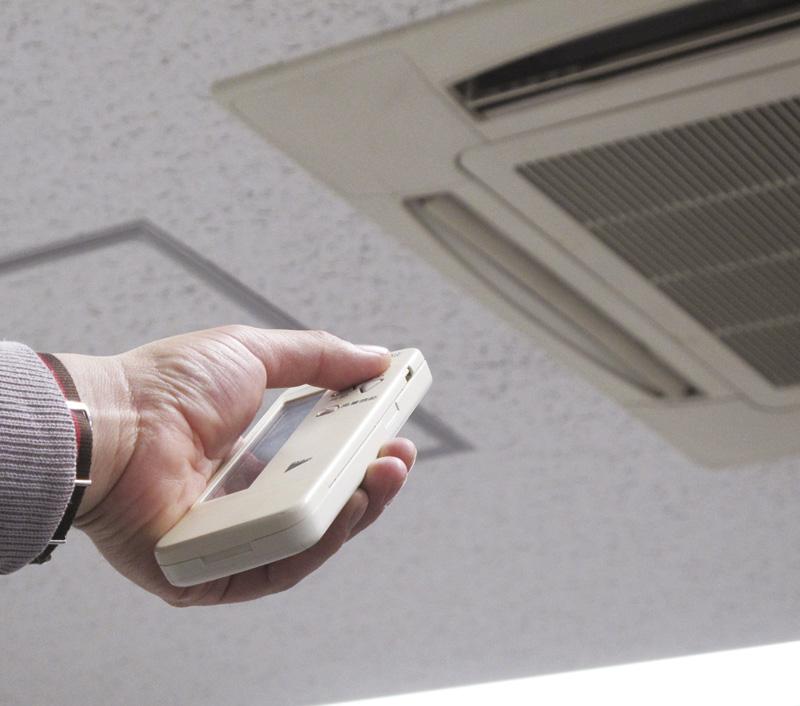 A wireless logger whose data can be captured by a smartphone or PC
Built-in Bluetooth(R) wireless technology.

Use your tablet or PC to collect data even as signals are being logged.

No matter what time during measurement you collect the data, data is automatically merged together into one single file.
Review data trends by observing waveforms and numerical values right there in the field.

*Pictured: LR8514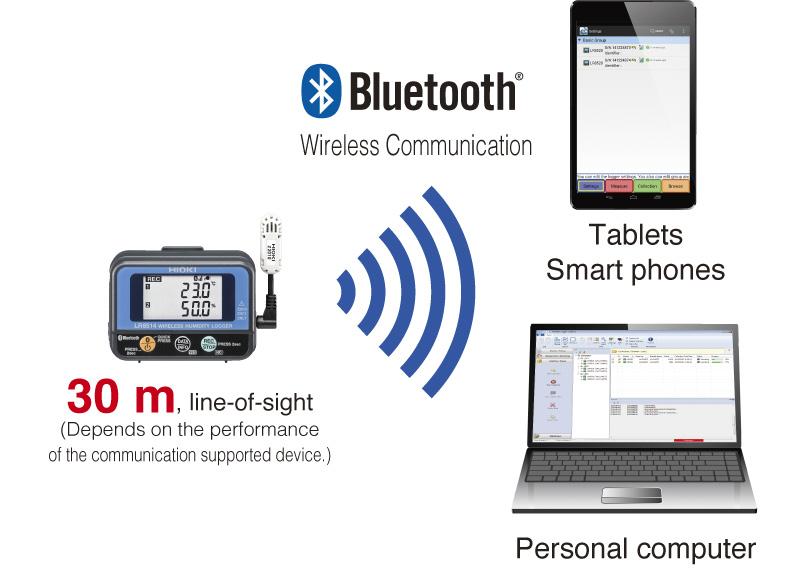 Real-time monitoring
By using the Hioki LR8410-20 to acquire data, you can view the waveforms in real time.

Furthermore, previous waveforms can be viewed while the device is taking measurements.

*Pictured: LR8514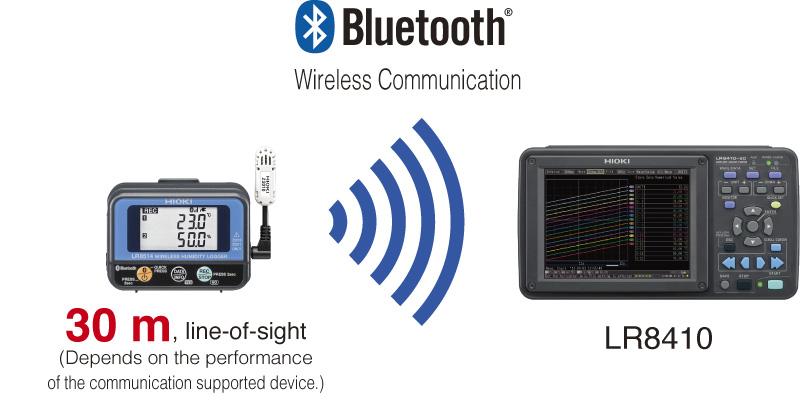 A compact wireless logger that you can place anywhere
Pocket size for installation anywhere.
Resolves issues involving installation space.

Wireless capability is useful when you need to collect data from high places or locations scattered across a large site.
Power with AA batteries or an AC adapter
The logger will operate for about 20 days on two AA-size alkaline batteries.
(Recording interval: 1 sec, with Bluetooth(R) ON)

Since the batteries will last longer the less time the Bluetooth(R) function is operating, the instrument features a power-saving function that automatically turns on the Bluetooth(R) circuit during predefined time periods.

While communications are disabled, data is reliably stored in the instrument's large built-in memory, which can hold 500,000 data points per channel.

Use the AC adapter to record data over extended periods of time with peace of mind.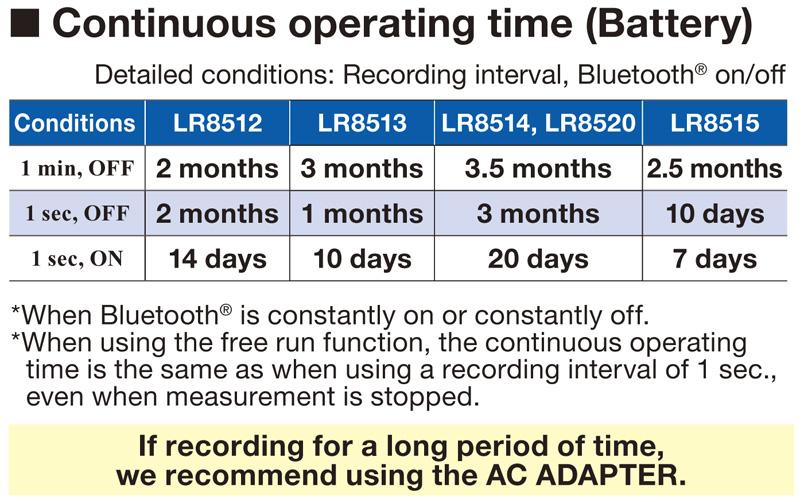 A temperature and humidity logger that can generate alarms
Using the built-in alarm function, if measured signals fall outside defined ranges,"ALARM" can be displayed.

You can also connect the logger to an external buzzer or warning indicator lamp.
(The buzzer and warning indicator lamp must be prepared separately.)

You can also use the LR8520 as a 1-channel temperature and humidity logger that can generate alarms.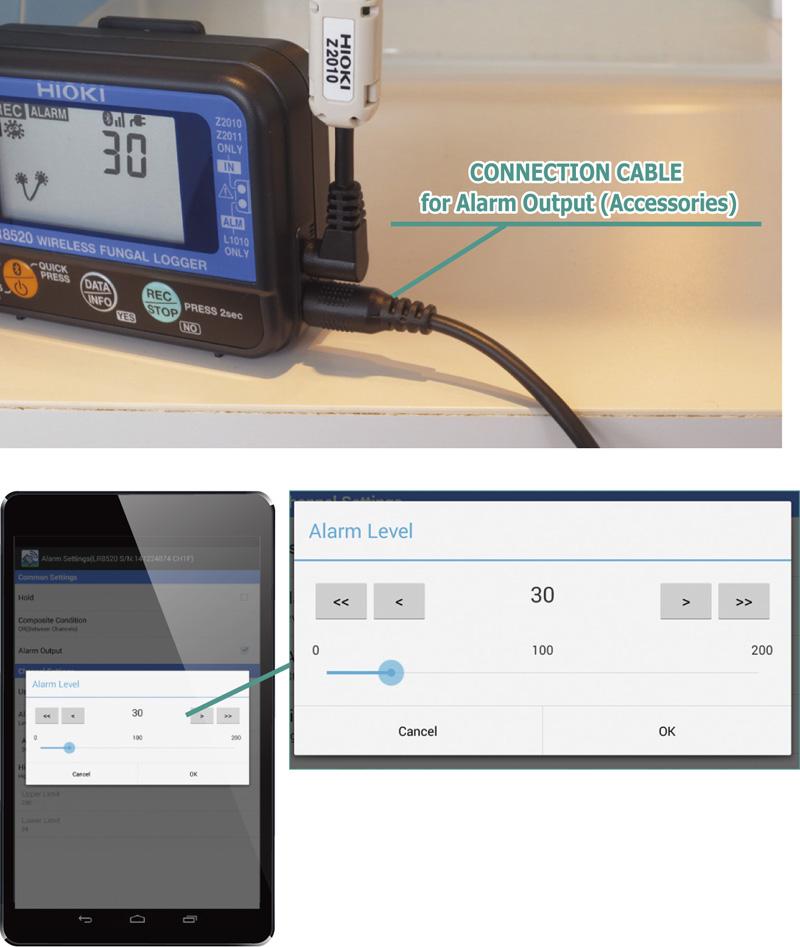 Basic specifications
Functionality
[Used as standalone product (Data collected manually) ]
Windows PC or Windows tablet (CD-R with software included)
Android smartphone or Android tablet terminal
(Download app from Google Play)
*Communication range varies with the performance of the computer or tablet
(up to a line-of-sight distance of roughly 30 m)
[Used as an input module (Real-time measurement) ]
Device can be used as an LR8410 logging module to record and display data in real time and to control up to 7 units, Communication distance: 30 m
Number of channels
1 temperature channel + 1 humidity channel (Humidity sensor Z2010 or Z2011 is required (sold separately))
Display items
Temperature, humidity, fungal index (0 to 200), growth prediction (5 levels)
Measurable range
[Temperature] -40˚C to 80˚C, Range 100˚C f.s., Max. resolution 0.1˚C
[Humidity] 0% to 100% RH, Range 100% RH f.s., Max. resolution 0.1% RH
Measurement accuracy
(using Z2010/Z2011)
[Temperature] ±0.5 ˚C (10˚C to 60˚C), If outside above temperature range: Add 0.015 ˚C/ ˚C (-40 ˚C to 10 ˚C) or 0.02˚ C/ ˚C (60 ˚C to 80 ˚C)
[Humidity] ±3% RH (20˚C to 30 ˚C, 20% to 90% RH), Hysteresis: ±1% RH (Added to the humidity measurement accuracy)
Other functions
Measurement value, Date, Time, Number of recorded data, Maximum value, Minimum value, Average value, Alarm, Scaling, Recording operation hold function, Erroneous operation prevention, Comment recording function, Power saving function, Authentication function, Free run
Recording
[Capacity] 500,000 data items for each channel [Mode] Instantaneous value [Interval] 0.5 sec to 30 sec, 1 min to 60 min, 14 selections
Power supply
ACAdapter Z2003 (100 to 240 V AC, 50 /60 Hz), AA alkaline batteries (LR6) × 2, External power 5 to 13.5 V DC (can also be supplied from USB bus power via a conversion cable)
Continuous operating time
([Capacity] 500,000 data items for each channel) (23˚C)
3.5 months (Recording interval of 1 min, Bluetooth® OFF), 20 days (Recording interval of 1 sec, Bluetooth® ON), 5 days (Recording interval of 0.5 sec, during real-time measurement with the LR8410)
Dimensions and mass
85 mm (3.35 in) W × 61 mm (2.40 in) H × 31 mm (1.22 in) D (Excluding protrusions), 95 g (3.3 oz) (Not including the battery)
Included accessories
CD-R (Instruction Manual, Logger Utility, Wireless Logger Collector) ×1, Measurement Guide ×1, Caution for Using Radio Waves ×1, AA alkaline batteries (LR6) ×2 , Connection cable L1010 ×1
Countries and regions where wireless operation is currently supported (LR8520)
Last update: August 2022
| | |
| --- | --- |
| Countries and regions where wireless operation is currently supported | Australia, Austria, Bangladesh, Belgium, Bulgaria, Canada, Chile, Colombia, Croatia, Cyprus, Czech Republic, Denmark, Estonia, Finland, France, Georgia, Germany, Greece, Hong Kong, Hungary, Iceland, Indonesia, Ireland, Israel, Italy, Japan, Kenya, Latvia, Liechtenstein, Lithuania, Luxembourg, Macao, Malta, Myanmar, Netherlands, New Caledonia, New Zealand, Norway, Poland, Portugal, Romania, Saudi Arabia, Singapore, Slovakia, Slovenia, Spain, Sweden, Switzerland, Thailand, Turkey, United Kingdom, United States, Viet Nam |
| Note | Use of devices that emit radio radiation requires approval in the country of use. Thus, use of the instrument in a country or region where they have not been approved may be subject to penalty as a violation of law. |
Other options (3)
The L1010 is bundled with the LR8520 for alarm output.

AC ADAPTER Z2003

CONNECTION CABLE L1010

MAGNETIC STRAP Z5004
Measurement sensor (2)

HUMIDITY SENSOR Z2011

HUMIDITY SENSOR Z2010
For the PC (1)