AC CLAMP METER CM3281
Large Jaw Lets You Clamp with Ease, ‌Measure thick cables right at the terminal
Hioki clamp meters are best-in-class measuring devices incorporating Hioki' s expertise in current sensing technology. The CM3281 is an average rectified 2000 A AC clamp meter that features a broad operating temperature range of -25°C to 65°C, thin and compact clamp core and optional flexible current sensor that you can attach to let you get into the tightest spots.

CAT IV 300 V
CAT III 600 V

Large Jaw Lets You Clamp with Ease
New and innovative design lets you get between narrow cable gaps despite large jaw offering, improving work efficiency at the worksite. The compact meter delivers a wide measurement range from a few amperes up to 2000 A.
Key Features
AC only, measure up to 2000 A AC

-25°C to 65°C operating temperature range

Also measure resistance, continuity, AC and DC voltage
Model No. (Order Code)
A pocket clamp meter that can use flexible sensors
When connected to an optional flexible current sensor*, the CM3281 can be used to measure the current flowing in pairs of wires or in tangled or complexly routed wires around which it was not possible to apply a clamp-on sensor in the past.

* AC FLEXIBLE CURRENT SENSOR CT6280 (4200 A AC, Φ130 mm)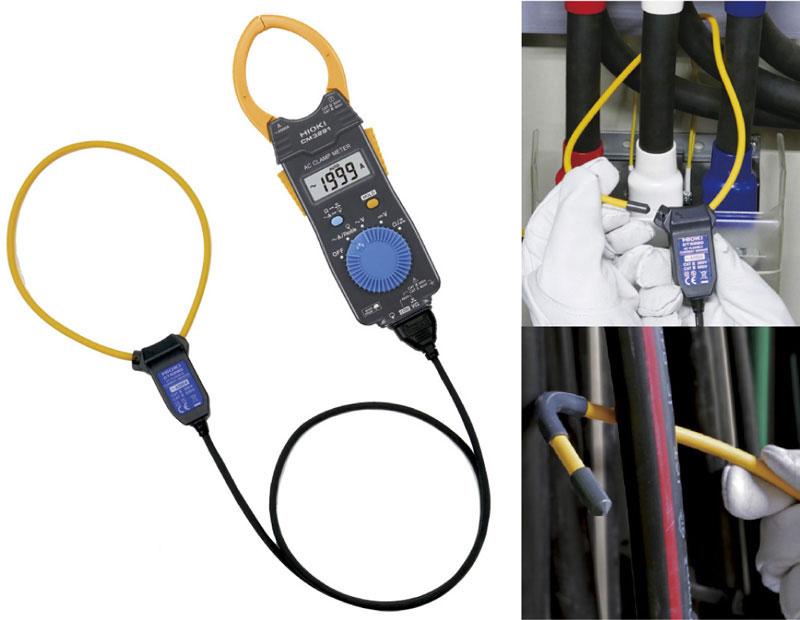 Essential for electrical work: A thin card tester that fits in the pocket with all the capabilities of a clamp meter
The CM3281 delivers all the functionality of a clamp meter and card tester in the form factor of the latter. In addition to current measurement, this single instrument delivers voltage measurement, continuity check, and resistance measurement functionality.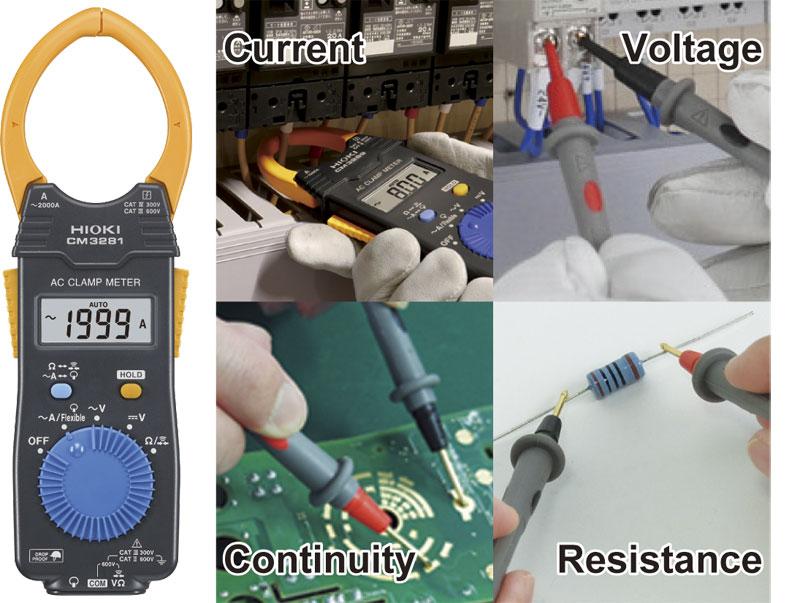 Rugged, portable design that's drop-resistant
Despite its thin, compact design, the CM3281 has an operating temperature range of -25°C to 65°C and can withstand being dropped from a height of 1 m onto concrete. It's engineered for use in tough environments.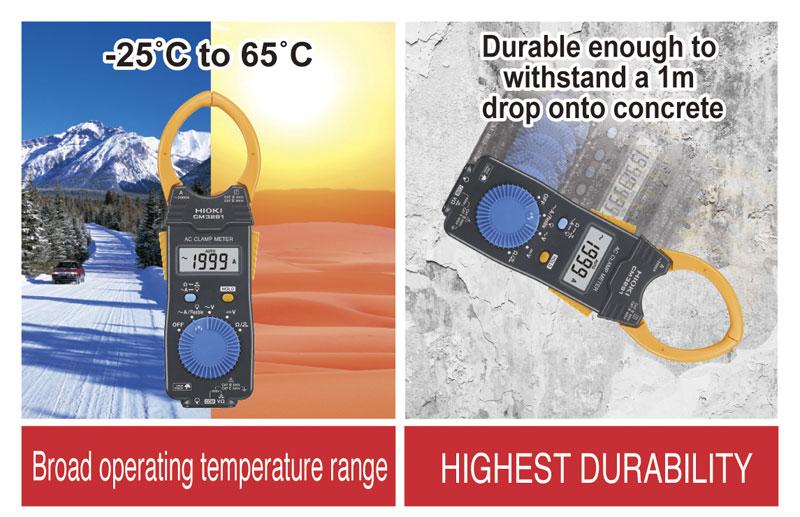 Comes with a sturdy and lightweight hard case
All accessories can be stored.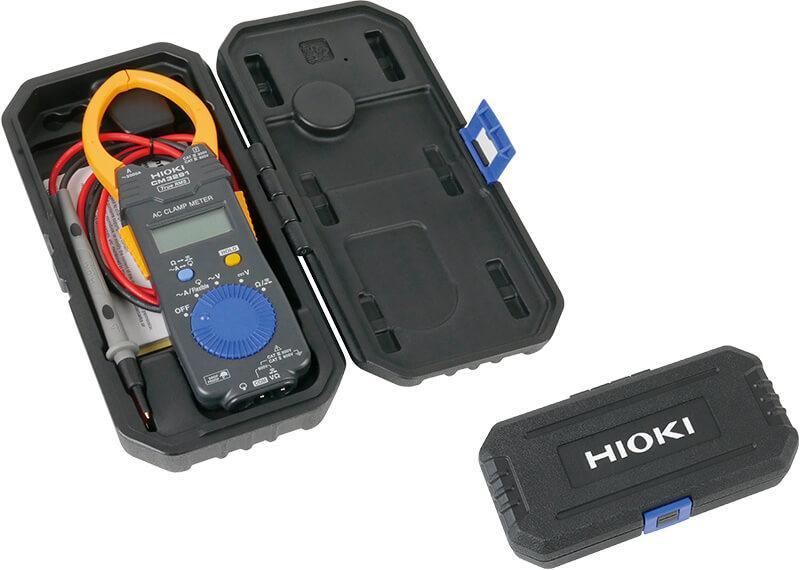 Basic specifications
Accuracy guaranteed: 1 year
AC Current range
42.00 to 2000 A, 3 ranges (50 Hz to 60 Hz, Average rectified),
Basic accuracy 50-60 Hz: ±1.5% rdg. ±5 dgt.
DC Voltage range
420.0 mV to 600 V, 5 ranges, Basic accuracy: ±1.0 % rdg. ±3 dgt. (at 4.2 V range)
AC Voltage range
4.200 V to 600 V, 4 ranges (45 to 500 Hz, Average rectified),
Basic accuracy 45-66 Hz: ±1.8% rdg. ±7 dgt. (at 4.2 V range)
Resistance range
420.0 Ω to 42.00 MΩ, 6 ranges, Basic accuracy: ±2.0 % rdg. ±4 dgt. (at 420 Ω range)
Other functions
Continuity check: Buzzer sounds at 50 Ω ±40 Ω or less, Data hold, Auto power save, Drop-proof from height of 1 meter
Power supply
Coin type lithium battery (CR2032) ×1, Continuous use 120 hours
Core jaw diameter
φ 46 mm (1.81 in), Jaw dimension: 65 mm (2.56 in) W × 13 mm (0.51 in) D
Dimensions and mass
57 mm (2.24 in) W × 198 mm (7.80 in) H × 16 mm (0.63 in) D, 103 g (3.6 oz)
Included accessories
Carrying case ×1, TEST LEAD L9208 ×1, Coin type lithium battery CR2032 (for trial purposes only) ×1, Instruction manual ×1, Download guide ×1, Operating precautions ×1
CT6280 Basic specifications
Accuracy guaranteed: 1 year
| | |
| --- | --- |
| Core jaw dia. | φ 130 mm (5.12 in) (Cable cross-section diameter: 5 mm (0.20 in); tip cap diameter: 7 mm (0.28 in)) |
| AC Current | 419.9 A/ 4199 A, 2 ranges (±3.0 % rdg. ±5 dgt.) |
| Cable length | 800 mm (31.5 in) |
Bundled Accessories (1)
The Carrying Case (accessory) is a hard type, 222 mm (8.74 in)W × 115 mm (4.53 in)H × 46mm (1.81 in)D

TEST LEAD L9208
Options (3)
The C0205 is a bundled accessory for the CT6280. L4933, L4934 can be used on TEST LEAD L9208.

SMALL ALLIGATOR CLIP SET L4934
Attaches to the tip of the L4932, L9207-10/DT4911, L9206, CAT III 300 V, CAT II 600 V

CONTACT PIN SET L4933
Attaches to the tip of the Test Lead L9207-10/DT4911, L9206, 60V DC/ 30V AC
---
Related Products