FREQ UNIT 8970
Frequency, Rotation, and Pulse Measurement
Key Features
Fluctuating frequency measurement of power lines for commercial power (direct input of up to 200 V class line)

Isolated 2 channel input

Max. rated voltage to ground: 300 V AC or DC (CAT II)

Pulse counting for the encoder

Used in measuring motor rotation, pulse integration, duty ratio, and pulse width

Encoder divider function
Model No. (Order Code)
| | |
| --- | --- |
| 8970 | For MR6000, MR8847A, MR8827, and similar products |
Note: This module must be used with the Memory HiCorder. Input cords are not included. Please purchase them separately.
Record frequency fluctuation and pulse count/integration data
Use the Frequency Unit 8970 to record measured waveform frequency, RPM, input pulse integration, duty ratio, and pulse width variations. It can accommodate numerous use cases, including measurement of motor RPM, vehicle speed, and power supply frequency fluctuations. Thanks to a maximum input voltage of 400 V DC, it can also directly measure 3-phase circuits carrying up to 200 V.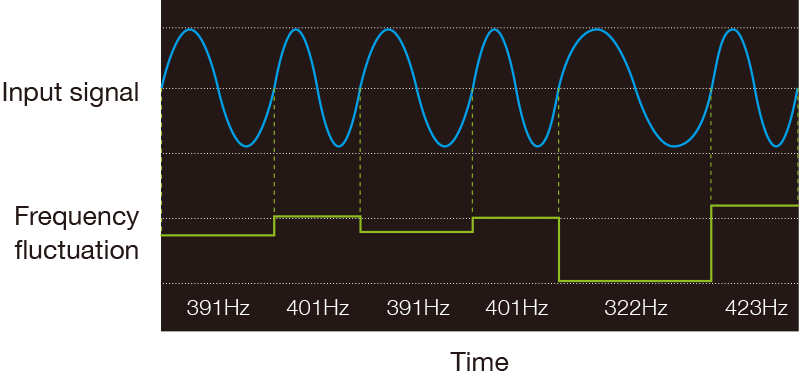 List of Available Memory HiCorders
Please refer to the table here for the types of input units that can be used for each Memory HiCorder.
Basic specifications
Accuracy guaranteed: 1 year
Measurement functions
Number of channels: 2, for voltage input based frequency measurement, rotation, power frequency, integration, pulse duty ratio, pulse width
Input connectors
Isolated BNC connector (input impedance 1 MΩ, input capacitance 30 pF),
Max. rated voltage to earth: 300 V AC, DC (with input isolated from the unit, the maximum voltage that can be applied between input channel and chassis and between input channels without damage)
Frequency mode
Range: Between DC to 100kHz (minimum pulse width 2μs), 1Hz/div to 5kHz/div (full scale= 20 div), 8 settings
Accuracy: ±0.1% f.s. (exclude 5kHz/div), ±0.7% f.s. (at 5kHz/div)
Rotation mode
Range: Between 0 to 2 million rotations/minute (minimum pulse width 2μs), 100 (r/min)/div to 100k (r/min)/div (full scale= 20 div), 7 settings
Accuracy: ±0.1% f.s. (excluding 100k (r/min)/div), ±0.7% f.s. (at 100k (r/min)/div)
Power frequency mode
Range: 50Hz (40 - 60Hz), 60Hz (50 - 70Hz), 400Hz (390 - 410Hz) (full scale= 20 div), 3 settings
Accuracy: ±0.03Hz (exclude 400Hz range), ±0.1Hz (400Hz range)
Integration mode
Range: 2k counts/div to 1M counts/div, 6 settings
Accuracy: ±range/2000
Duty ratio mode
Range: Between 10Hz to 100kHz (minimum pulse width 2μs), 5%/div (full scale=20 div)
Accuracy: ±1% (10Hz to 10kHz), ±4% (10kHz to 100kHz)
Pulse width mode
Range: Between 2μs to 2sec, 500μs/div to 100ms/dv (full scale=20 div)
Accuracy: ±0.1% f.s.
Measurement resolution
1/2000 of range (Integration mode), 1/500 of range (exclude integration, power frequency mode), 1/100 of range (power frequency mode)
Input voltage range and threshold level
±10V to ±400V, 6 settings, selectable threshold level at each range
Other functions
Slope, Level, Hold, Smoothing, Low-pass filter, Switchable DC/AC input coupling, Frequency dividing, Integration over-range keep/return
Dimensions and mass
106 mm (4.17 in) W × 19.8 mm (0.78 in) H × 196.5 mm (7.74 in) D, 250 g (8.8 oz)
Included accessories
None
---
Related Products