Non-Conformance of CONNECTION CORD L9197
Dear Hioki customers
We have recently found that the following safety issue exists on the Connection Cord L9197.
We hereby recall the products to replace with the good ones.
We are sorry for any inconvenience this recall may cause, but kindly request your understanding and cooperation in this matter.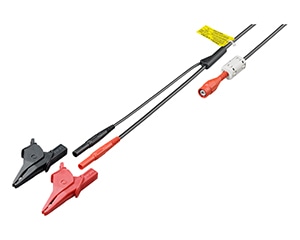 L9197
Details of Non-Conformance
The red banana terminal of the coaxial cable may break and detach after as few as 10 uses.
There is a risk of electric shock if the exposed metal fitting of the detached coaxial cable is touched while the black crocodile clip is connected to a live circuit.
Please stop using the affected products immediately.
Please refer to the attached document "7200-20-042-2-EN_customers" about recall and repair.
Affected Product
Connection Cord L9197 shipped from our factory between August 8, 2019 and May 18, 2020.
Regarding replacement units
1.

If you have an affected product, please contact the sales office or distributor in your region for a replacement.

2.

Once we announced to replace the affected products on May 26, 2020,
However, we confirmed that the repair by adding the adhesive heat shrink tube is durable enough to use safely, so that we change to repair the affected products.

3.

If you have any questions, please feel free to contact to our sales offices.
Revision History
(1)

May 29, 2020: Initial edition

(2)

July 14, 2020: Revised to "repair"