POWER QUALITY ANALYZER PQ3198 PQ3198-92 PQ3198-94
Ver1.20 Apr 3, 2020
If you are unable to download software, please check the following:
Please register a myHioki account and then use it to log in to the myHioki service.
Product firmware (product upgrades) and computer application software can only be downloaded for products you have registered on the myHioki service.
Version upgrade should be conducted by a qualified technician familiar with the functions and operations.
If you are uncertain as to how to proceed, please contact your local HIOKI distributor for assistance.

・All software provided here is the best version currently available.
・If the problems or errors during this download and install lead to malfunction, please contact your dealer or Hioki representative.
・The ownership, intellectual right and all other associated rights relating to the software provided here belong to Hioki E.E. Corporation.

If you have read and understand the information above and wish to proceed then please download the designated files.
As for version upgrade procedure, please download "Procedure on how to update the firmware" which describes the preparation and procedure for upgrading firmware after downloading the files.

Precaution when updating firmware:
・To conduct the version upgrade, a SD card is required.
・During the version upgrade process, don't turn off the power to the PQ3198 or don't remove the SD card from the slot. Turning power off will result in failure to upgrade the PQ3198 and the instrument must be returned to the Hioki factory for repair.
Firmware for the Model PQ3198
The current newest software versions are shown below. A version update is highly recommended if you are running older firmware.

Version :V1.20
Before you proceed
Check the version number by accessing the SYSTEM page on model PQ3198.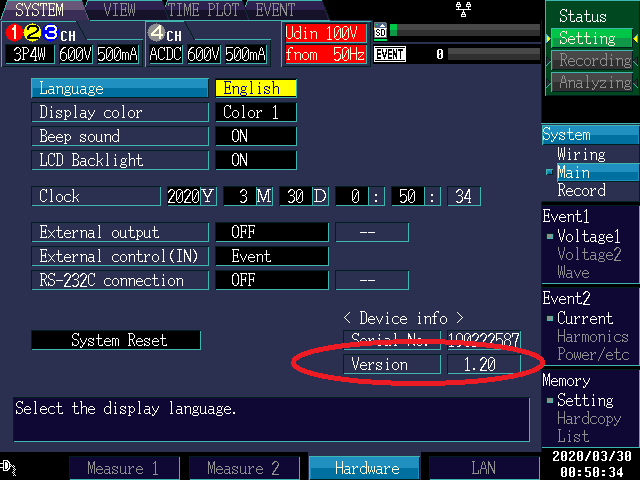 Version Upgrade History
V1.20 (April 2020)
Fixed bugs:
1. Some characters may be garbled on the simple settings screen.
2. Running a simple configuration could result in a lockup.
3. Immediately after factory reset, pressing ENTER until language display selection has appeared, the screen color has become abnormal.
Added functions:
1. Added display of voltage and current THD values on the harmonic graph screen.
2. Added support for GENNECT functionality.
Enhancements:
1. If all the effective values of ch1, ch2, ch3 are 0, the value of Unb and Unb0 for each voltage and current are 0, the data is invalid.
2. If the effective value of each channel is 0, the THD value for each voltage and current is invalid.
3. Error no longer occurs when loading files acquired by GENNECT Remote Pro with the main unit.
V1.10
(September 2019)
Added functions:
1. GENNECT One (V3.00) is now supported.
GENNECT One (formerly GENNECT Cross for Windows) will be updated on October 16.
Fixed bugs:
1. Corrected because there was a typographical error in Spanish notation.
V1.01
(March 2019)
 Release