MEMORY HiVIEWER 9725
Ver1.22 Dec 18, 2013
If you are unable to download software, please check the following:
Please register a myHioki account and then use it to log in to the myHioki service.
Product firmware (product upgrades) and computer application software can only be downloaded for products you have registered on the myHioki service.
Windows2000, XP
Vista (32-bit)
7 (32-bit or 64-bit)
8 (32-bit or 64-bit)
・The files provided herein include the latest updates for obtaining the best performance from the MEMORYHiVIEWER 9725.
・Should you experience any technical difficulties during the installation procedure, please contact your local Hioki distributor for further assistance.
・Hioki E.E. Corporation retains all rights, including copyrights and Intellectual Property Rights pertaining to the software.

By downloading software of the Hioki E.E. Corporation from this site, you agree to the following terms and conditions stated above. If you do not agree with such terms and conditions, do not download the software.
Before you proceed
Before you begin, check the version of the 9725 you are currently using and download the corresponding update file as indicated below.
To check for the version number of your 9725, in the HELP menu, select "About..." to display the Version Information.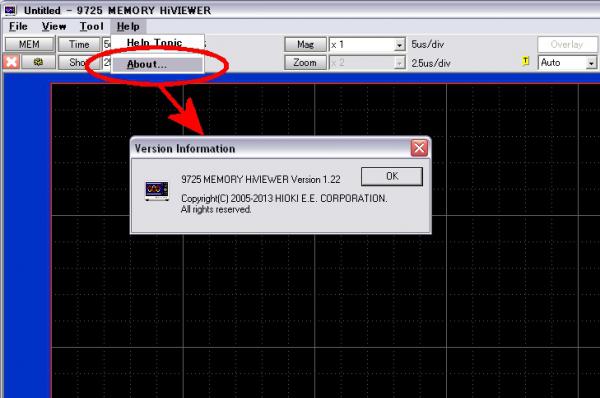 Downloads
Warning:
The update file provided will not install unless the original 9725 application software is detected on your PC.
Please contact your HIOKI representative if you have any questions or concerns.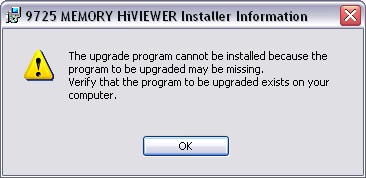 Version Upgrade History
Ver1.22 Newest Version
・Compatible with Windows 8
・Toolbar function is added.
・Other minor bugs were corrected
 
Ver1.21
・Compatible with Windows 7
・Other minor bugs were corrected

Ver1.20
・Compatibility to models 8860-50 and 8861-50
・Compatibility to the Real-time function
・Compatibility to the REC&MEM function
・Compatibility to the High Voltage Unit model 8961

Ver1.13
・When using External Sampling under the 16CH+8x8CH mode and attempting to load only 1 axis from the saved data, it was found that data was switched between channels. (Ver 1.10 to Ver 1.12 only)
・When attempting to load recorder waveform files captured in REC&MEM mode, the application was found to quit unexpectedly.

Ver1.12
・Temporary support for model 8860-50

Ver1.11
・Bug fixes:
・When converting data to text, the application was found to freeze.
・When using the FFT Averaging function, it was found that the application only performed the operation once.
・When rewriting calculated waveforms, the calculation results were found to be in error.

Ver1.10
・Compatibility to the FFT function
・Memory segmentation function added
・Segmental save of waveform data
・Improving the speed at which to load waveform files