Firmware Update (V2.04) for Insulation Tester ST5520 and ST5520-01
1. Non-Conformance
The measurement results may be out of accuracy when measuring resistance around the lower display range limit with a test voltage 890V or higher.
2. Impacted Firmware Version
V2.03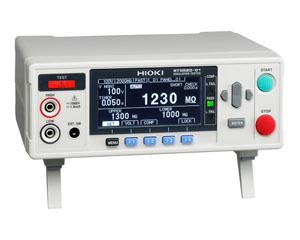 3. Countermeasures
Please update the firmware to V2.04 by using the following procedures.
1.

Download the attached files named "V2.04 version update file" and "Firmware version update procedures".

2.

Update the firmware according to the instructions in the "Firmware version update procedures".
4. Effects of the Firmware Version Update
1.

The specifications of the lower limit for display and assured accuracy ranges for resistance measurement will be changed as shown in the attached Table 1.

2.

Re-adjustment and/or calibration will not be necessary, because this update has no impact on the adjustment value.
5.Items required to Update
1.

Insulation Tester ST5520, ST5520-01 (V2.03)

2.

USB cable (A mini B type) --- See Fig,1

3.

PC with USB interface (OS must be Windows XP, Vista, 7, 8 or 10, 32bit/64bit)

4.

V2.04 update file