POWER ANALYZER PW3390
V2.00 May 18, 2018
If you are unable to download software, please check the following:
Please register a myHioki account and then use it to log in to the myHioki service.
Product firmware (product upgrades) and computer application software can only be downloaded for products you have registered on the myHioki service.
Version upgrade should be conducted by a qualified technician familiar with the functions and operations.
If you are uncertain as to how to proceed, please contact your local HIOKI distributor for assistance.

・All software provided here is freeware and the best version currently available.
・If the problems or errors during this download and install lead to malfunction, please contact your dealer or HIOKIrepresentative.
・The ownership, intellectual right and all other associated rights relating to the software provided here belong to HIOKIE.E. Corporation.

If you have read and understand the information above and wish to proceed then please download the designated files.
As  for  version upgrade procedure, please download "PW3390FirmwareUpdateProcedures" which describes the preparation and procedure for upgrading firmware after downloading the files.

Precaution when updating software:
・To conduct the version upgrade, USB memory stick or Hioki genuine CF card is required.
・During  the  version  upgrade  process,  don't  turn  off  the  power  to  the  PW3390  or  remove  the  CF  card(USB memory tick) from the slot. Turning power off will result in failure to upgrade the PW3390 and the instrument must be returned to the HIOKIfactory for repair.
Firmware for the model PW3390
The current newest software versions are shown below.

Version :V2.00
Before you proceed
When selecting "SYSTEM" screen, the currently running firmware versionnumber will appear.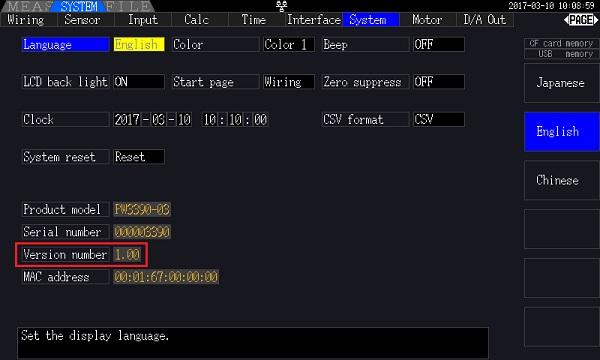 Version Upgrade History
V2.00 (May 2018)
1. Added functions
-1. Added a trend screen.
-2. Added a load function for screen shots.
-3. Added a FFT spectrum save function for noise measurements.
-4. Improved the following performance attributes for the noise analysis function:
Increased the maximum noise analysis frequency to 200kHz.
Decreased the minimum noise level from the current specifications by 20dB.
Improved calculation precision.
-5. Added the ability to manually adjust the motor phase zero adjustment value.
-1. When automatic save is turned OFF and waveforms are being saved while integration is being performed at an interval of 5s or shorter, missing points in the integration was found to occur. Also, regardless of the state of automatic save, if there are attempts to download waveforms using the PC application while integration is being performed at an interval of 5s or shorter, missing points across the entire measurement data file was found.  This phenomenon has been fixed.
-2. Other minor bugs fixed.
-1. Replaced the text [deg.] with the symbol [°].
-2. Added support to events of synchronized measurements for the :HOLD and *TRG commands for the hold function via PC communication.
-3. Changed factory default settings for noise analysis related settings.
V1.01 (June 2017)
 Improvements for production and inspection in the factory.
V1.00
 (March 2017)
Initial release.