Hioki Recognized for Gender Equality Program by the City of Ueda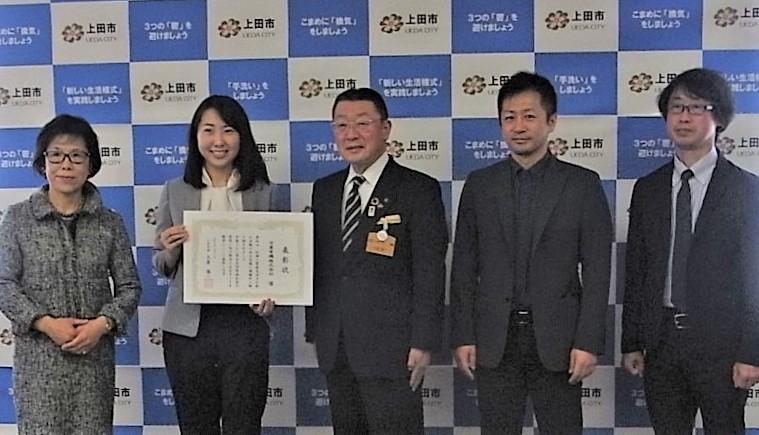 FY2020 award ceremony (Ueda City Office)
March 19, 2021 - Nagano, Japan
Hioki is pleased to announce that it has been recognized by the City of Ueda under its FY2020 gender equality awards program. An award ceremony was held on March 16 at the Ueda City Office.
Hioki has taken a variety of steps to improve the workplace environment while boosting employee motivation, reflecting its corporate philosophy of Respect for Humanity and Contribution to Society. The City of Ueda chose to honor Hioki with the award based on the company's initiatives to create workplaces that foster equal participation by male and female employees while helping them balance the demands of their jobs and families.
■Initiatives to date
·Offering career development training for female employees
·Offering diversity and inclusion training as part of career development training for management-level employees
·Hiring female salespeople in an effort to expand the range of jobs in which women participate
·Offering opportunities for part-time employees to move to full-time positions
·Introducing a reemployment program
·Encouraging male employees to take parenting leave
·Introducing a flex-time program to facilitate more flexible workstyles
As a result of these and other, related initiatives, the Minister of Health, Labour and Welfare certified Hioki under its Platinum Kurumin program in June 2020 for its support of parenting and under its Eruboshi (Stage 3) program in September 2020 for its gender equality initiatives.
Going forward, Hioki will continue to enhance programs so that employees can make the most of their skills regardless of gender and to work towards a society where both men and women can pursue their hopes and dreams through their jobs, families, and communities.
■FY2020 award ceremony (Ueda City Office)
Commemorative photograph of Mayor Yoichi Tsuchiya, members of the Ueda Gender Equality Promotion Committee (who served as judges for the award), and a representative of Hioki
*Company and product names used in this release are the trademarks or registered trademarks of their respective owners.
---
About HIOKI
Established in 1935, HIOKI E.E. CORPORATION (TSE: 6866) has grown to become a world leader in providing consistent delivery of test and measuring instruments through advanced design, manufacturing, and sales and services. By offering over 200 main products characterized by safety and quality while meeting an expansive range of applications, we aim to contribute to the efficiency and value of our customers' work in research and development, production and electrical maintenance. HIOKI products and services are available around the world through our extensive network of subsidiaries and distributors. Information about HIOKI is available at www.hioki.com.