Exclusive Academic Offer Through March 2018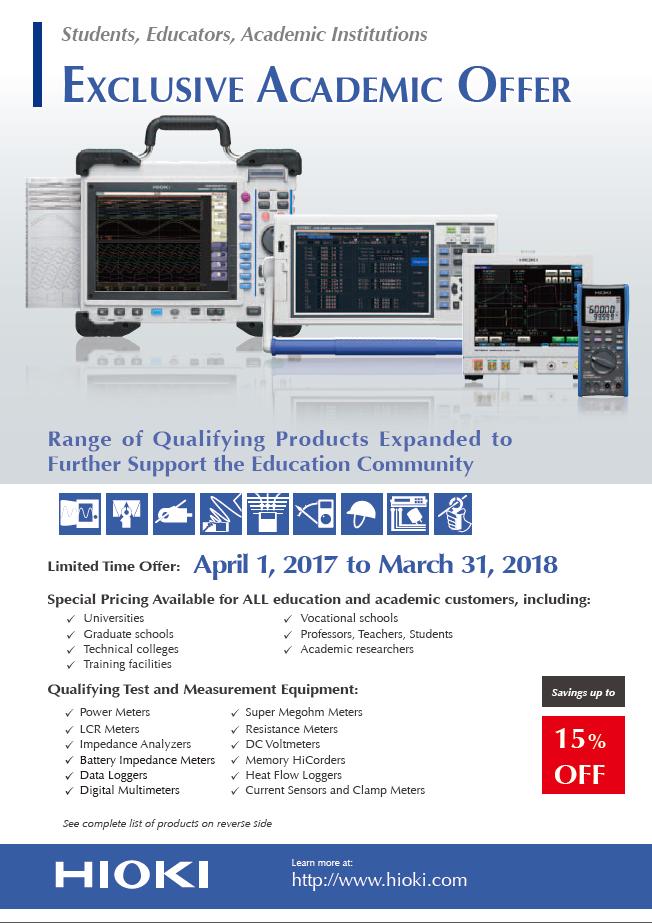 Exclusive Academic Prices Now Available for Select Products Through March 2018

May 1, 2017 - Nagano, Japan

With the mission of encouraging more customers who are just beginning to enter the workforce and industry to experience our complete and world-class lineup of measuring instruments including LCR Meters, Impedance Analyzers, Power Meters, and Memory HiCorders, special academic pricing will be offered to students, educators and academic researchers as detailed below:
 
1.  QUALIFYING PRODUCTS
Select models from the following product categories:
* Power Meters
* Super Megohm Meters
* LCR Meters
* Resistance Meters
* Impedance Analyzers
* DC Voltmeters
* Battery Impedance Meters
* Memory HiCorders
* Data Loggers
* Heat Flow Loggers
* Digital Multimeters
* Current Sensors
* Clamp Meters
 
2.  CAMPAIGN PERIOD:  April 1, 2017 to March 31, 2018
 
3.  DISCOUNT:  Up to 15% OFF.  Discounts for certain regions may vary. Please inquire with your Hioki distributor for a quotation.
 
4.  QUALIFYING CUSTOMERS: Universities, graduate schools, technical colleges, training facilities, vocational schools, professors, teachers, students, and academic researchers

For more information, please contact your Hioki distributor.


---
About HIOKI
Established in 1935, HIOKI E.E. CORPORATION (TSE: 6866) has grown to become a world leader in providing  consistent delivery of test and measuring  instruments through advanced design, manufacturing, and sales and services. By offering over 200 main products characterized by safety and quality while meeting an expansive range of applications, we aim to contribute to the efficiency and value of our customers' work in research and development, production and electrical maintenance. HIOKI products and services are available around the world through our extensive network of subsidiaries and distributors. Information about HIOKI is available at www.hioki.com.