Facilities at HIOKI Forest Hills
Outside the Company
Personal fulfillment lays the groundwork for professional fulfillment
HIOKI Forest Hills, where our head office is located, was created based on a vision of the ideal manufacturing plant in a park setting. Over the course of 20 years, seedlings planted by HIOKI employees have grown up to become large trees, enveloping the area in rich greenery.

The site incorporates a variety of recreational facilities that are open to local residents, and these are used on a daily basis for the pursuit of health and fitness, sports practices to help make children's dreams come true, lessons, and other activities.
Recreational facilities
Extensive recreational facilities
Recreational facilities. Sports fields, a clubhouse, and a track are open to use by local residents.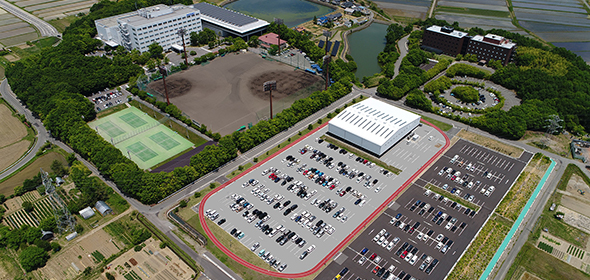 Track

Our track is used by athletes as they prepare for the Nagano Ekiden Road Relay and the Ueda Kosenjo Half Marathon.

Sports fields

■Ballpark with night lights

Tennis courts

Club house
HIOKI Lodge (dormitory for single employees and lodgingfor trainees)
Located next to our head office, HIOKI Lodge serves as both a dormitory for single employees and lodging for visiting customers. Each of the 60 private rooms has a full bathroom, individual climate control thermostat, and Internet access, while each floor offers laundry facilities. Visitors and residents alike enjoy the varied menu of healthy, seasonal fare served by the restaurant on the first floor.

In addition, construction of HIOKI Lodge No. 2 began in April 2016 (scheduled to be completed in March 2017). In addition to putting in place an environment that will better serve as a social welfare facility for employees, the new addition will add conference rooms and other space for use in HIOKI's educational and trainingprograms.

Athletic Center
HIOKI's Athletic Center includes training rooms, a studio, an indoor baseball practice area, and a bouldering wall. The studio is used to hold five or six different classes such as yoga and aerobics.