Protecting Employees' Safety and Health
Safety and health are fundamental prerequisites for work. HIOKI is involved in a variety of initiatives addressing this important area of its operations.
Nipping Danger in the Bud through Risk Assessment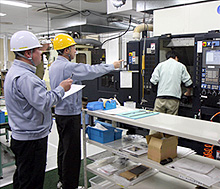 Under a safety and health management system that was introduced on a voluntary basis in 2008, HIOKI assesses potential hazards in advance when changing production line layouts or deploying new equipment. This approach to risk assessment serves to score, or grade, dangerous situations in daily company life.
In this way, we are able to identify and evaluate risk factors, take action, and then reevaluate them in an ongoing drive to minimize employee exposure to hazards.
Good Health Also Includes Families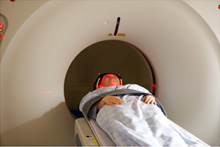 Maintenance of employee health is a company responsibility, but HIOKI's health management system goes a step further. As one example, all employees undergo a thorough health examination when they turn 30 and then every year after they turn 35. Once they reach a certain age, employees undergo bone density, prostate, and other medical tests as appropriate, and gynecological exams are provided for female employees. These exams are given not only to employees, but also to their dependent spouses, reflecting HIOKI's commitment to helping families stay healthy together.
Mental Health as a Social Requirement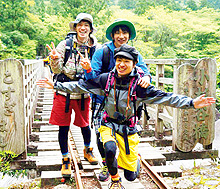 The number of individuals suffering from mental disorders caused by the complexity of the social environment is increasingly rapidly. More than 10 years ago, HIOKI began offering counseling by a senior vocational counselor at least twice every month. In fiscal 2012, counseling by a full-time public health nurse became available.

That same year, we also introduced a program that offers workers paid time off for "brain development." Under this program, which is designed to encourage employees to take advantage of paid time off and to facilitate a more healthy work-life balance, HIOKI subsidizes the cost of various educational programs for employees taking seven or more consecutive days of leave.

In this way, HIOKI is involved in a variety of initiatives to help employees maintain their mental health.