Company Environment and Educational Programs
Company Environment
Creating a free and vigorous environment that fosters individuality
In keeping with its philosophy of Respect for Humanity, HIOKI strives to motivate employees by creating a work environment that inspires pride and happiness on the part of workers and cultivating an organizational culture that encourages employees to embrace challenges through autonomous creativity without fear of failure.
Work environment
Offices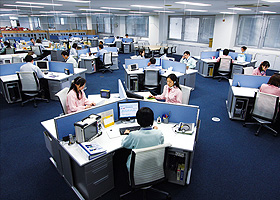 Production lines
We strive to create and continually improve workplace environments that are ideally suited to the task at hand so that employees can focus efficiently on tapping their full capability.
Employee restaurant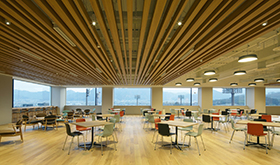 Break area
Meals and breaks refresh employees, ultimately boosting their ability to focus on their jobs.
HIOKI Hall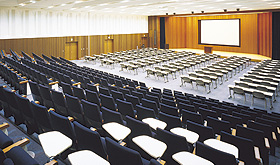 The HIOKI Hall is the venue for share-holder meetings, public classes, concerts, and other events.
Teahouse (at head office)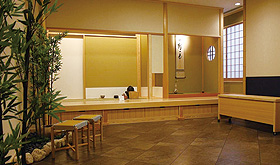 Our teahouse promotes understanding of traditional Japanese culture while allowing us to offer overseas customers heartfelt hospitality, both priorities that have grown even more important in this age of globalization.
Educational programs
Reflecting a belief that "employees' abilities are the company's abilities," HIOKI offers far-reaching training programs with a focus on improving individual ability. Content goes beyond specialized skills to include sensibility, creativity, and general education. Individual employees take advantage of an organizational culture that encourages them to improve themselves through continuing education, refining their skills on a daily basis so that they can flexibly respond to diversifying customer needs.
Training for each hierarchy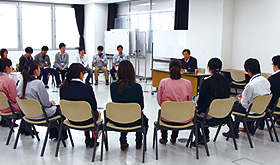 English conversation classes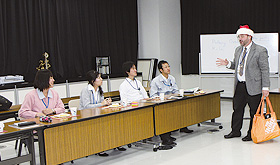 Public classes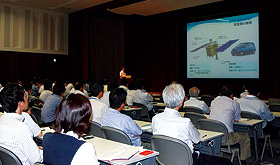 Lecture by the lead developer of the Hayabusa ion engine
Training camp at a Temple (for new employees)