Production and Quality Assurance system
An integrated approach extending from production to repair and calibration, always sensitive to market needs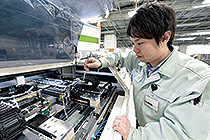 To implement manufacturing in a manner that accommodates the needs of an ever-changing market, HIOKI is working to implement multi-model, multi-volume production and to boost productivity.
To enable us to accommodate market pressure for ever-shorter lead times, we have located our Order Center, Production Planning Group, and Purchasing Group on the production floor so that personnel can respond immediately to lead time inquiries and issue production instructions quickly. In addition to building supply chains with part suppliers and standardizing parts, work processes, and production lines, we're working to eradicate market complaints by actively pursuing a quality improvement program founded in small-group activities on the production floor. In repair service, we strive to minimize customer down-time by improving lead times while funneling necessary information back to product design teams. In new product development, Manufacturing Department coordinators participate from the earliest stages in an effort to create designs that are optimized for manufacture. In this way, our entire manufacturing organization continues to evolve to improve the quality of the products and services we supply to the market.
Improving product dependability through third-party certification
Early on, HIOKI began working to improve dependability by earning third-party certification, thereby ensuring customers' ability to use its products with confidence and peace of mind over the long term.
In 1993, we earned certification under ISO 9001 (quality management systems), and in 1997, we earned certification under ISO 14001 (environmental management systems). In 2016, we integrated our quality and environmental management systems to reflect the 2015 revision of the underlying standards. Further, in September 2008, we earned the right to display the JIS mark in connection with our insulation resistance testers, which are classified as field measuring instruments, becoming the first company in the measuring instrument industry to do so. We've also earned JCSS certification (including MRA certification), an important qualification for instrument manufacturers, and we continue to improve our measurement technologies in order to better meet customer needs.In addition, we're working to increase dependability by developing products that comply with various laws and standards, including Japan's Electrical Appliances and Materials Safety Act and its Measurement Act.
Expanding the scope of JCSS (ISO17025) certification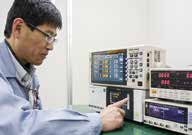 Since being certified as a JCSS calibration provider in 2008, HIOKI has steadily expanded the scope of its calibration service to encompass clamp-on current meters, power meters, watt-hour meters, time/frequency meters, and contact thermometers. Recently, the number of JCSS calibration requests is increasing in the face of growing international demand for reliable measurement. Going forward, we will continue to provide international calibration services and to expand the scope of JCSS calibration so that we can better meet customer needs.
*Japan Calibration Service System (JCSS): A system for registering calibration service providers based on their compliance with the requirements of calibration standards (ISO/IEC 17025) established by the International Organization for Standardization and International Electrotechnical Commission.