PD3259
DIGITAL PHASE DETECTOR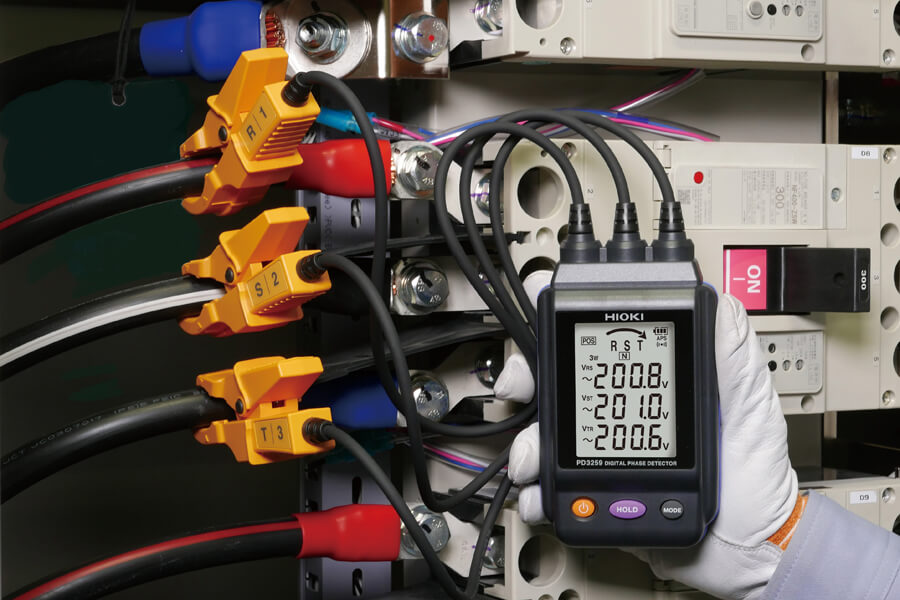 Revolutionizing Electrical Construction Work
A phase detector with voltage measurement function featuring three non-metallic contact voltage sensors.
Hioki has simplified the traditional method of electrical inspections*, which required measuring voltage with a digital multimeter and verifying correct phase sequence with a phase detector, by enabling technicians to just "clip the cables and then turn on the power".
The innovative phase detector features a large display that can present all measurement results at once, for instant verification on site. In addition, the results of the phase sequence are notified by differing backlight colors and audio cues.
To achieve a compact measuring instrument that fits in one hand, the functions of the phase detector have been carefully selected and the operation keys are grouped into three.
The ability to measure voltage without any metal contact means zero risk of electric shock, reducing psychological burden on the user, and minimizing physical burden by simplifying the work process. The PD3259 is designed to truly change the way people work in diverse job sites.
*Inspection required when laying construction of three-phase electrical equipment and verifying the 3 voltage values and phase sequence between each line.