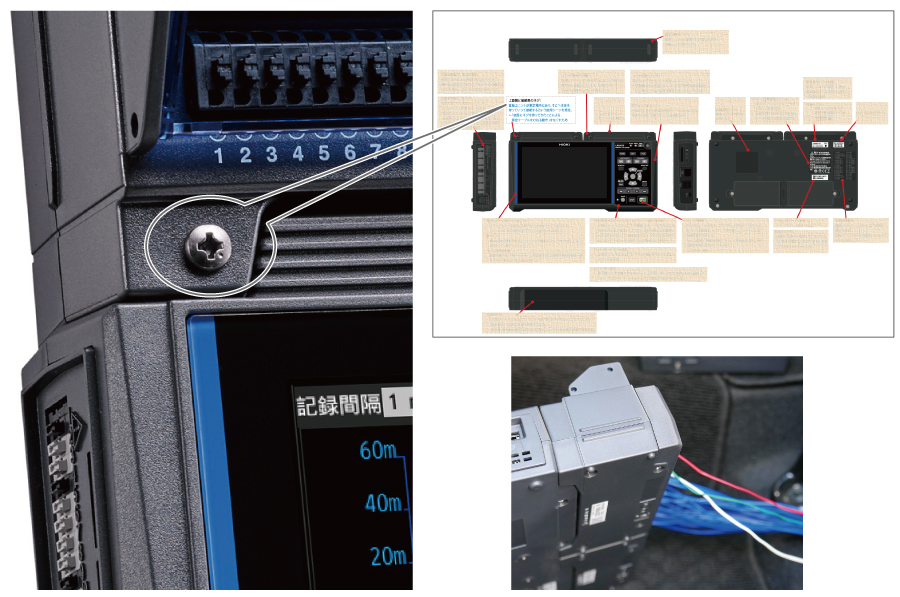 Design behind Screws
A multi-channel logger that enables high-speed data acquisition by connecting plug-in and wireless sensor units.
Typically designers intentionally place screws where they cannot be seen. However, we Hioki designers chose to defy that norm when it came to the screws that fix sensor units to the portable logger LR8450.
When users attach sensor units to loggers, they generally connect many thin wires such as thermocouple or strain gage wires to the sensor units, then connect the units to the logger. In a design where the screws that fix the units to the logger are on the bottom side, the logger would need to be flipped upside-down thereby twisting the many thin wires at the time of attaching the sensor units. This could cause the wires to break.
We focus on our users' desires, which in this case was to "avoid wire-breaking." This is why we took the unorthodox choice of placing the fixing-screws so they would face upward, leaving them showing bare.
This customer-centered determination to "avoid wire-breaking" also accounts for why multiple units are designed to connect the logger out in a straight line. This allows one unit to connect to the end of either the logger or another unit, all on a flat surface without ever needing to be lifting it up. With the wires going upward and out of the way when connecting, this multi-unit arrangement keeps the wire-twisting to a very minimum, all to "avoid wire-breaking."