FT3425 + Z5023 + SF4071 / SF4072
Illuminance Measurement Support System: Lux Meter + Extension Cart + Mobile Application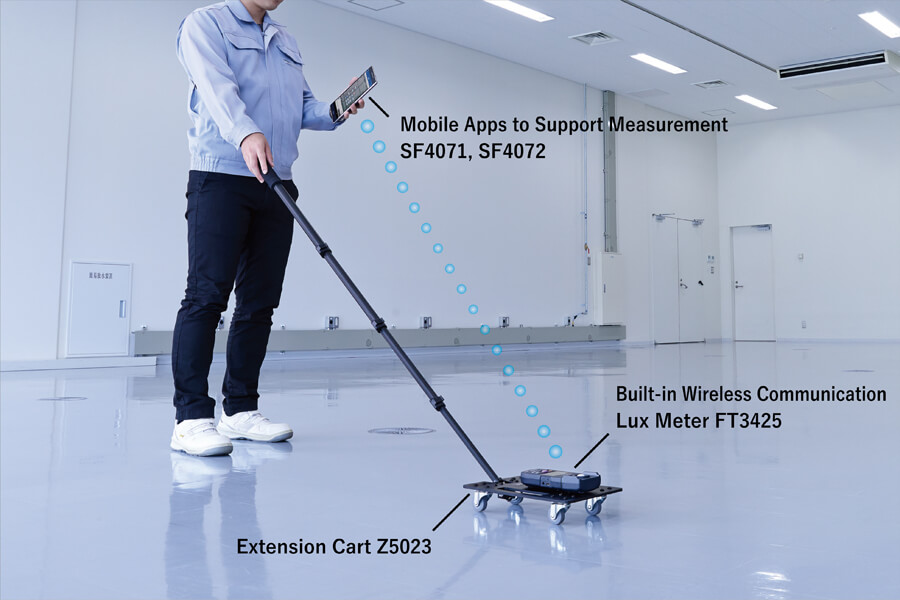 Total solution to complete illumination testing
The FT3425 and options represent an illuminance measurement system consisting of an advanced light meter with a built-in wireless communication function, data management application, and an extension cart with casters.
By connecting the illuminance meter to the mobile app wirelessly, the entire flow of illuminance measurement, recording, and report creation necessary for inspection of lighting work can be performed right on the app. Seamless and paperless handling prevent reading and recording mistakes as well as save time by eliminating handwritten notes.
In addition, by setting the light meter on extension cart, inspectors can move effortlessly across large areas while maintaining the required height from the floor surface, making it useful for multipoint testing.
In order to reduce the physical and psychological burden on the user, Hioki has evaluated the illuminance measurement process from beginning to end and established a new illuminance measurement solution by combining the mobile app and cart with the FT3425.